Planning to remodel your home but have run out of ideas? Do not worry! Take a look at the following 45 home renovation ideas that will add significant value to your home:
Entryway Home Renovation Ideas
Upgrade Entryway Fixtures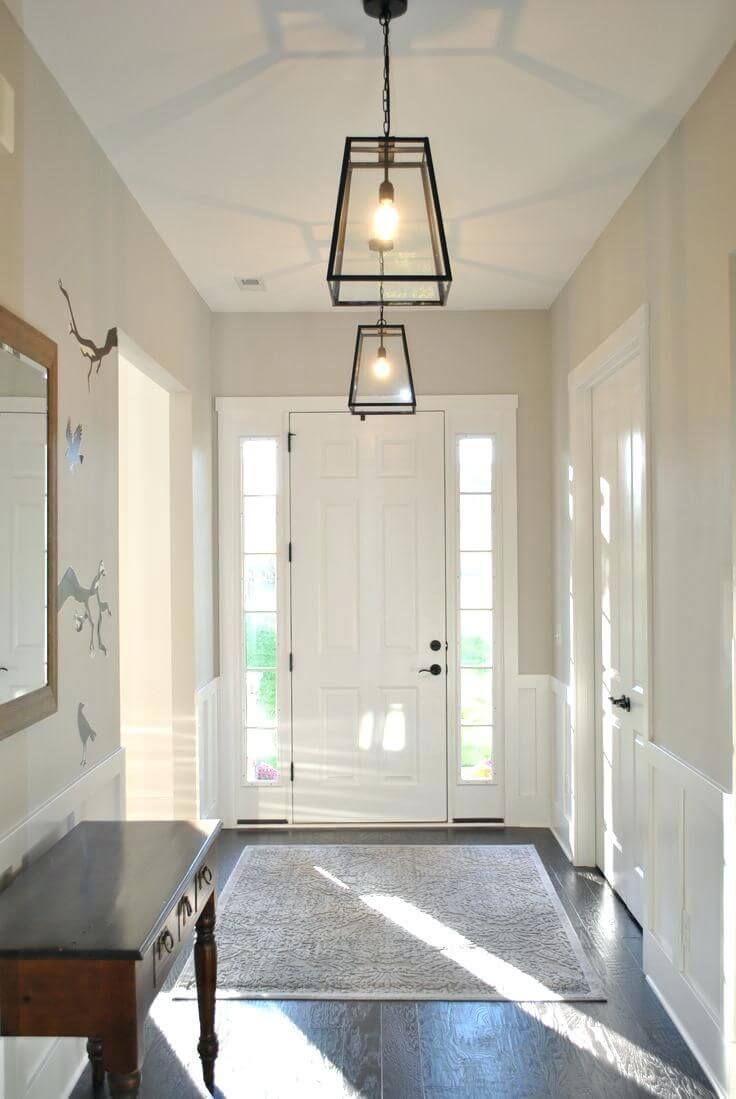 This is one of the important home remodeling ideas that can be applied throughout your house. Upgrade the switch plates, doorknobs, hooks, outlet covers, and all other fixtures that are present in your entryway. Your home's entryway is a vital factor for your visitor's first impression.
Place A Mirror At The Front Door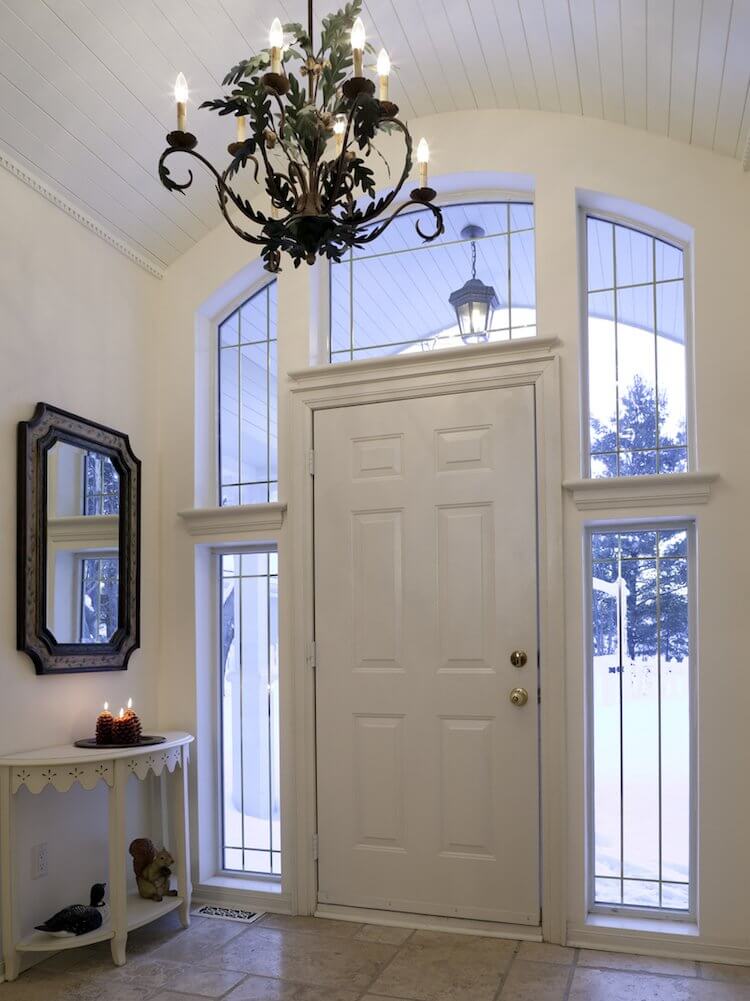 A mirror by the front door gives you a second-to-last chance to check yourself out when you are going out or answering the door. It is a useful addition to the entryway. Additionally, mirrors bounce light around a space and hence your entryway looks vibrant and spacious.
Make Hooks Available At The Entryway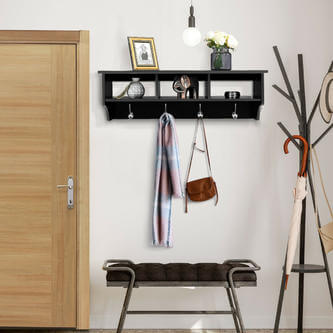 Hooks are one of the useful elements of an effective entryway. They can hold coats, jackets, hats, keys, umbrellas, shoulder bags, sacks, and anything you are holding in your hand.
Making And Reusing Storage Space Ideas
Increase Light And Space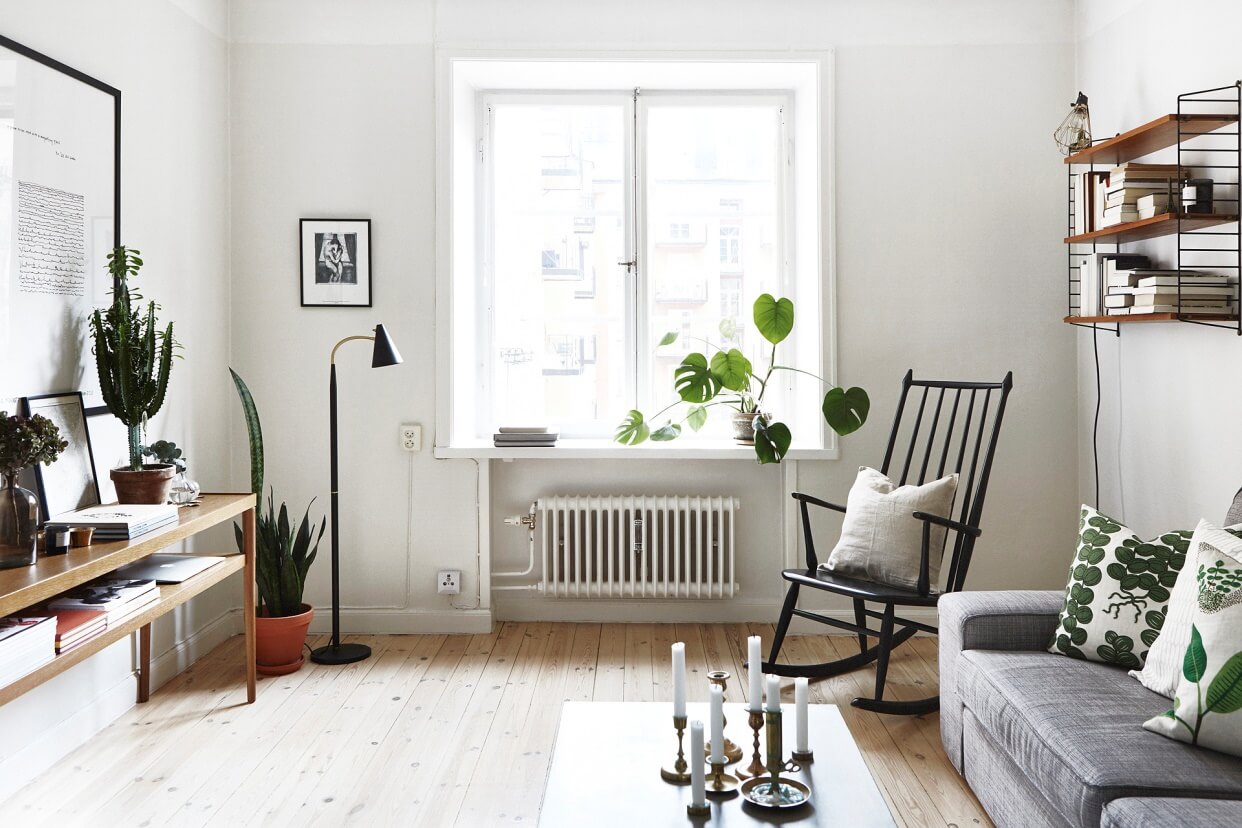 Open up your house and allow more natural light to come inside. Knockdown few walls to brighten up space. If your entryway does not have direct natural light, opt for a modern and beautiful lighting fixture overhead, skylights, or soft wattage bulbs. Additionally, vaulted ceilings seem to be another good option that can help create the illusion of more space. Choose any of these options but make sure that your home is well-lit at any time of day or night.
Set Up Multi-Functional Spaces In Your Home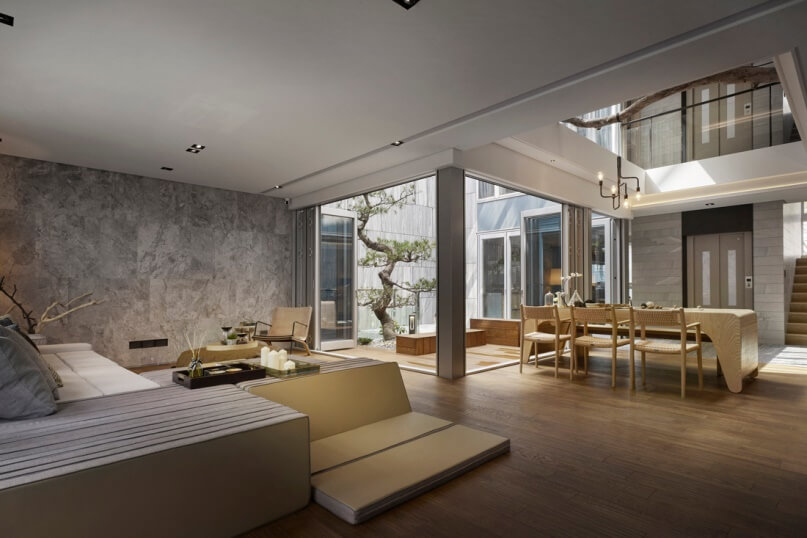 How do you create multi-functional spaces? For example, rather than adding a dining room table to your kitchen, you can use your kitchen counter as a dining area by adding some stools around it. Alternately, get a couch that can convert into a bed if you have invited your guests over. In this way, you can create multi-functional spaces in each room. However, do not let each room get too occupied with stuff.
Build More Usable Space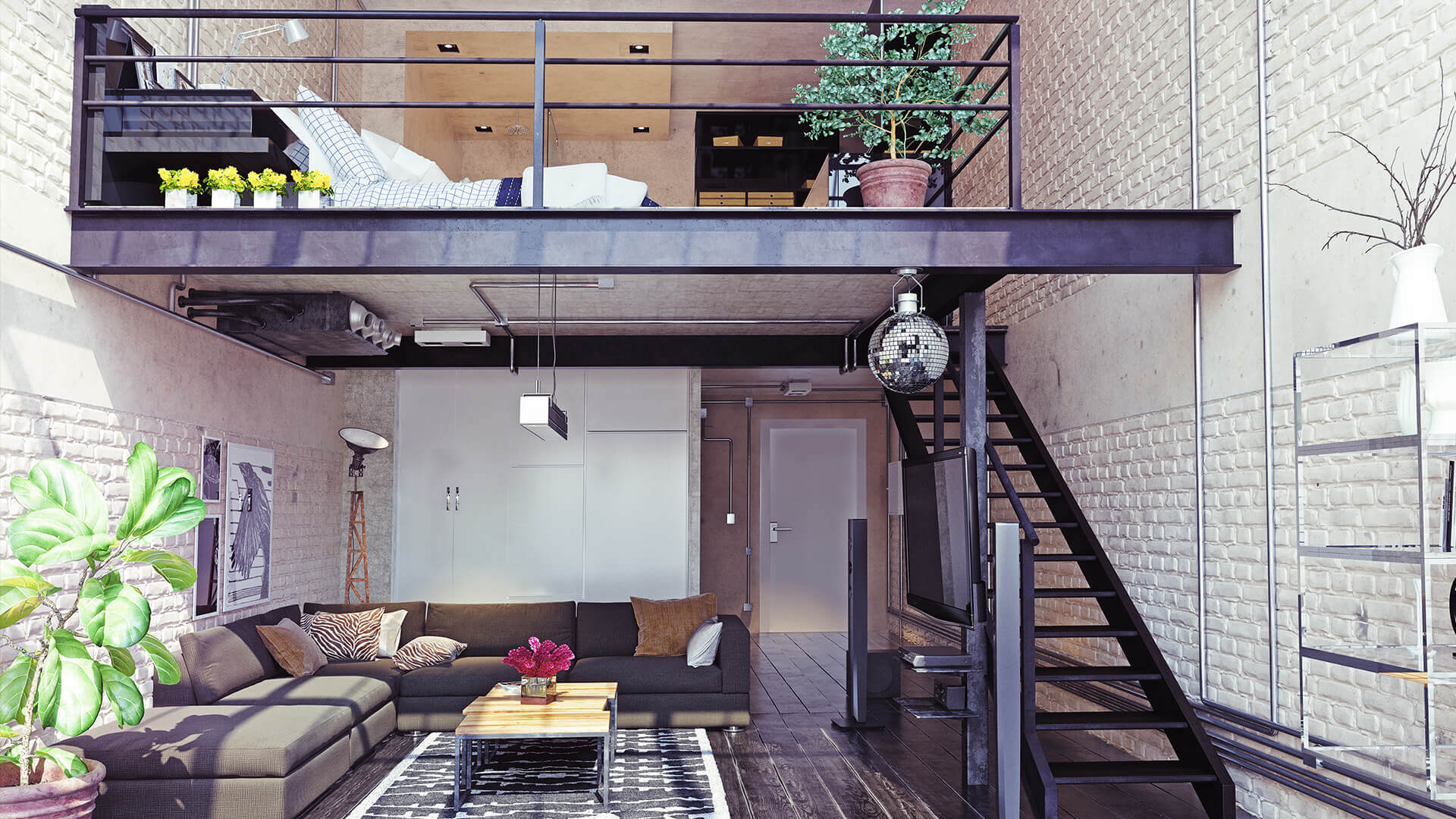 Build more usable space out of your existing furniture. For example, if you have a deck then put a bar rail on the deck and make a bench for outdoor eating space. Build pull-out cabinets that create extra countertop and storage space so that your home looks unique. This is helpful if you are looking for home renovation ideas on a budget as you are adding products that you already possess.
Sustain A Place For Keeping Shoes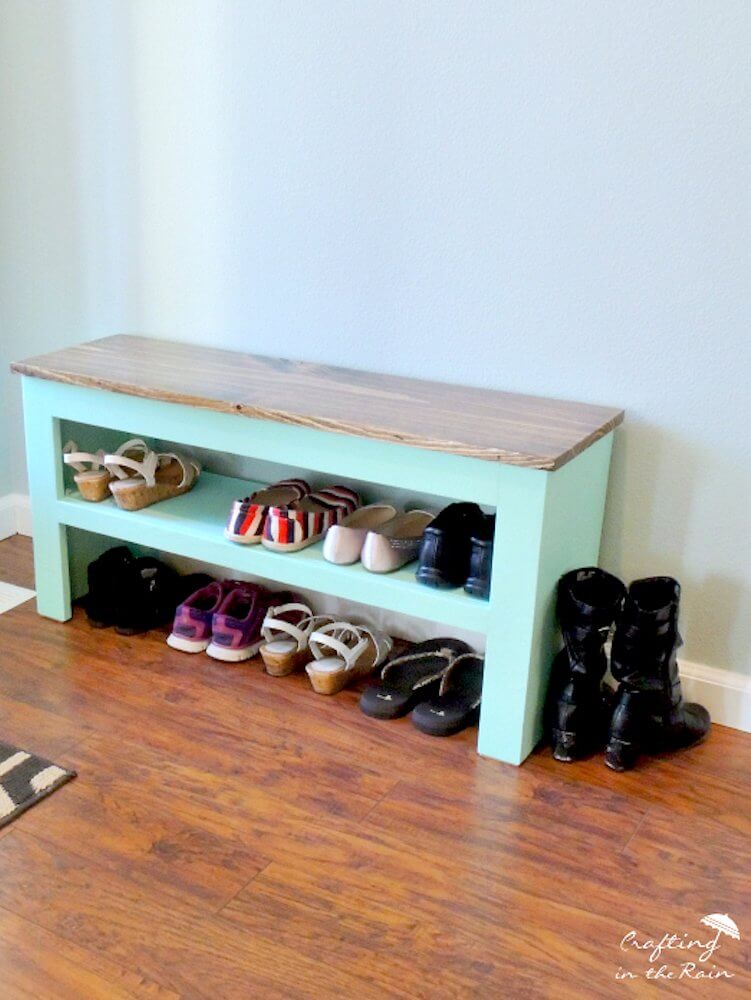 Whether you are entering your home or someone else's, you are supposed to remove your shoes. At the entryway, you can install a seat with a shoe storage combo for keeping shoes.  This looks good and also eliminates the barrier or embarrassment of uncertainty.
Set Up A Wall Desk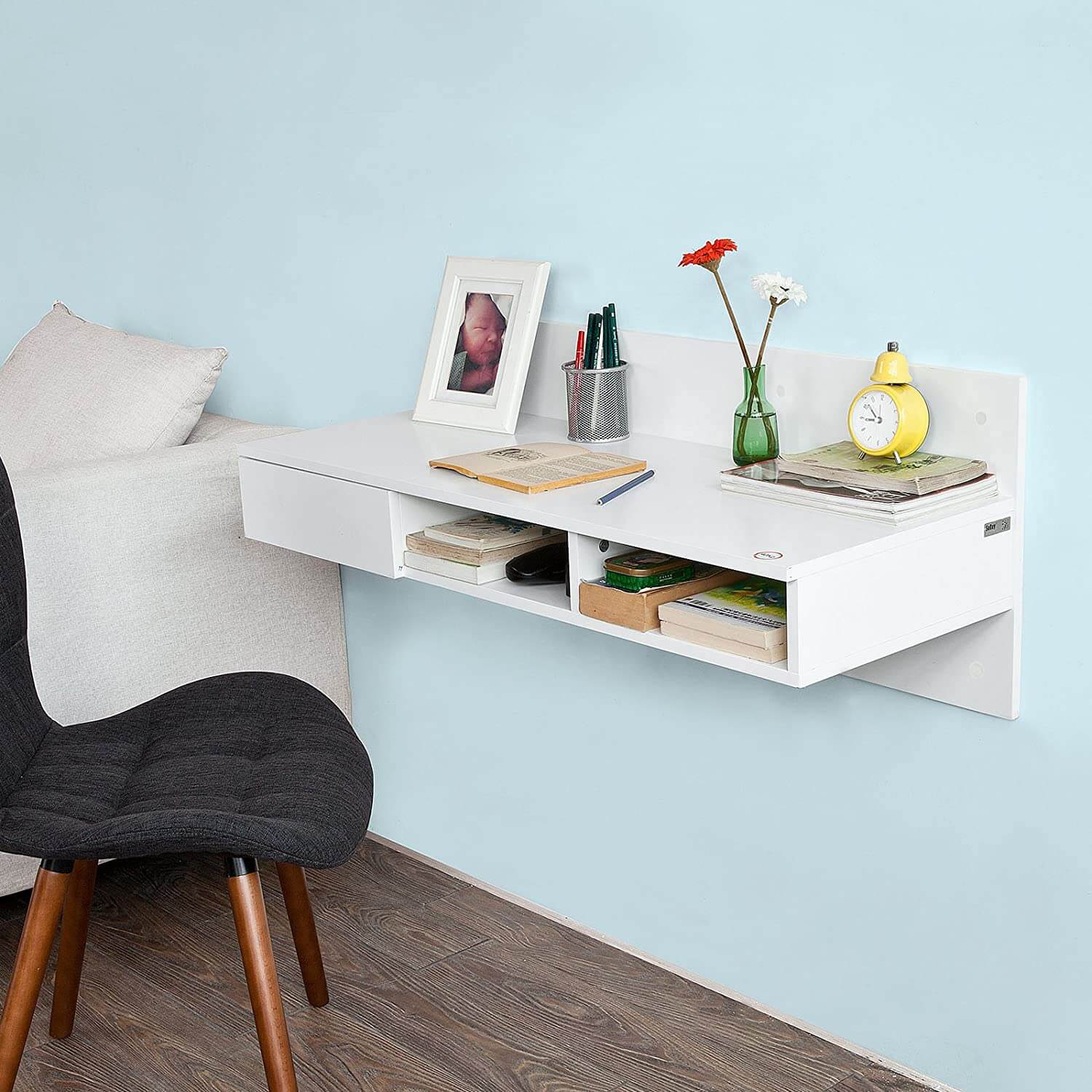 If you want to have a personal office space in your home, then all you need to do is install a small wall desk. Here you can keep your laptop, essential office documents, some papers, and pens. Also, you can add some shelves next to your desk so that you get more storage space for keeping a small printer or some other necessary hardware.
Use Storage Ottomans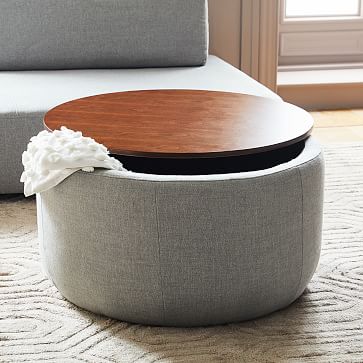 An Ottoman is like a low upholstered seat where one can sit and relax.  Additionally, ottomans that serve as storage containers are even better. Shove blankets and books into them when not required, and take the stuff back out when you need them.
Utilize Your Area Under Stairs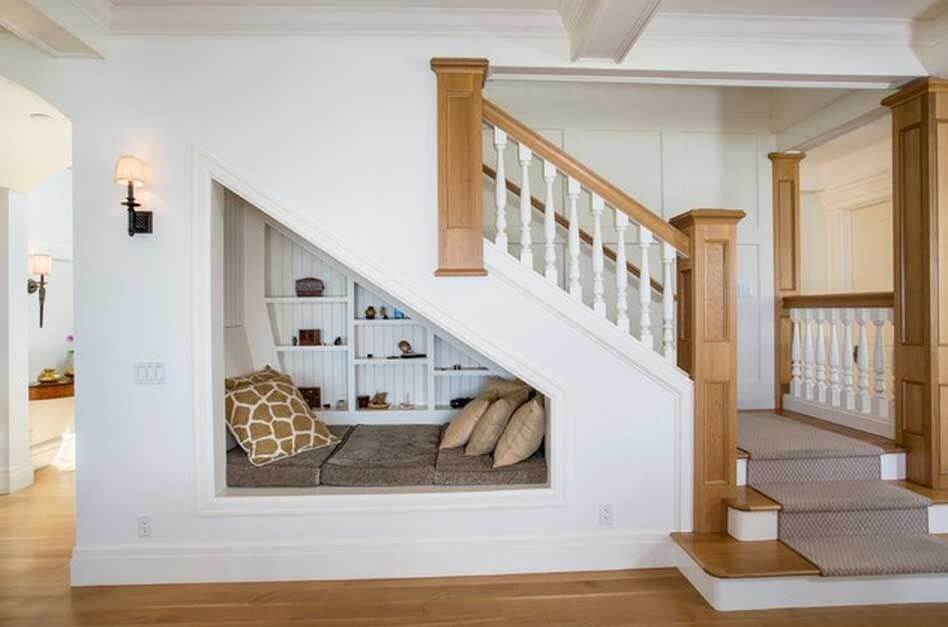 If you are renovating a house that includes a staircase, then do not leave the big space beneath the staircase unused. You can add some shelves to display your books or music collection. You can also make a small room under the staircase if you want to fulfill your childhood fantasy of living like Harry Potter.
Include Open Shelves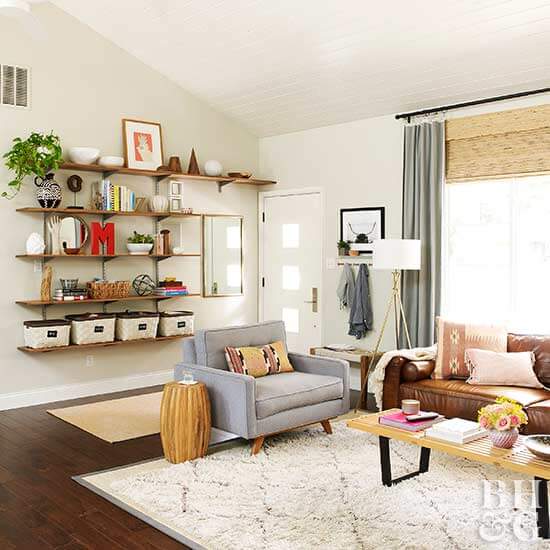 Open shelves tend to add an extra visual layer to your home. You just need a couple of shelves to display your antiques, trinkets, or showcases, and you can either keep these shelves open or cover them with glass doors. Also, you can decorate shelves with music CDs, books, or any other home accessories.
Install A Filing Cabinet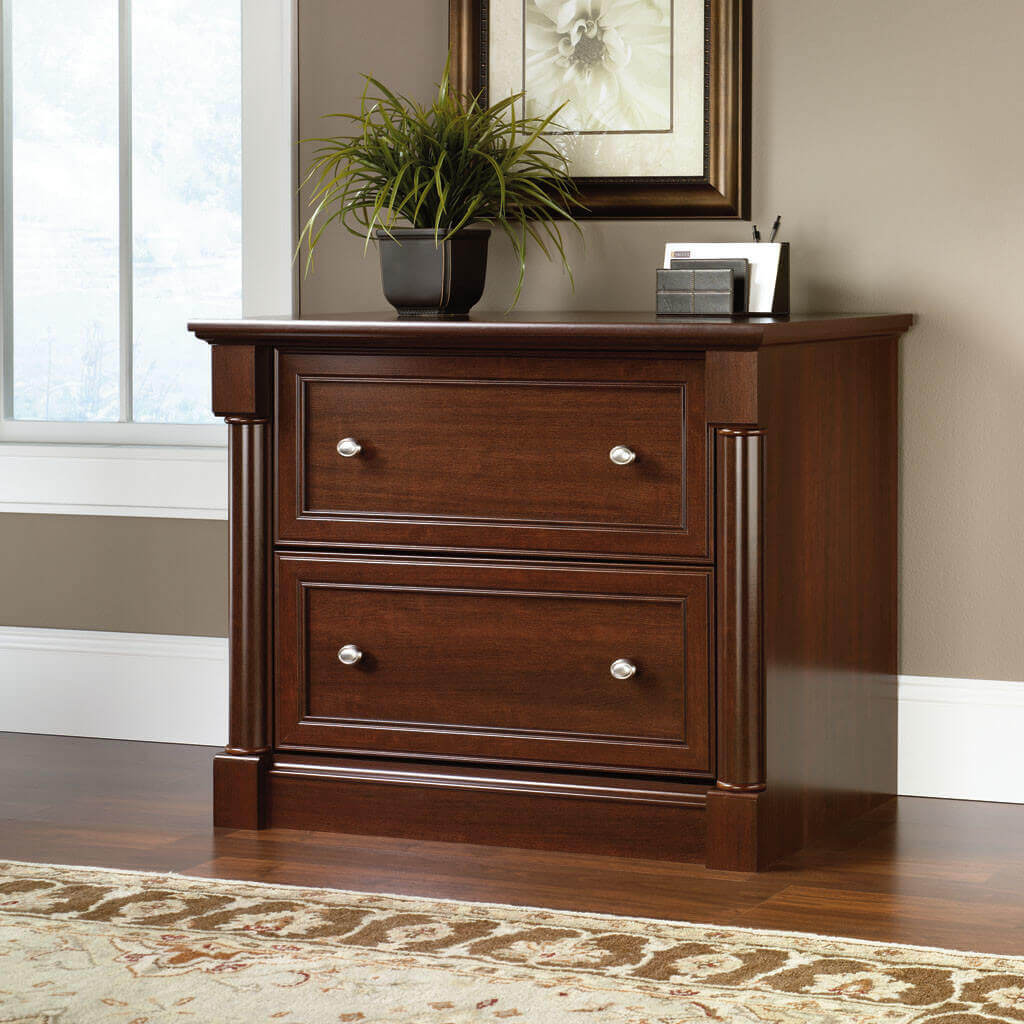 You can set up a filing cabinet in your home to keep essential documents related to insurance or taxes, and bill receipts. Arrange them by year so that you know where everything is and take the documents whenever you need them. In this way, all your important paperwork will be at your fingertips, and your room will be tidy.
Purchase A Stackable Washer And Dryer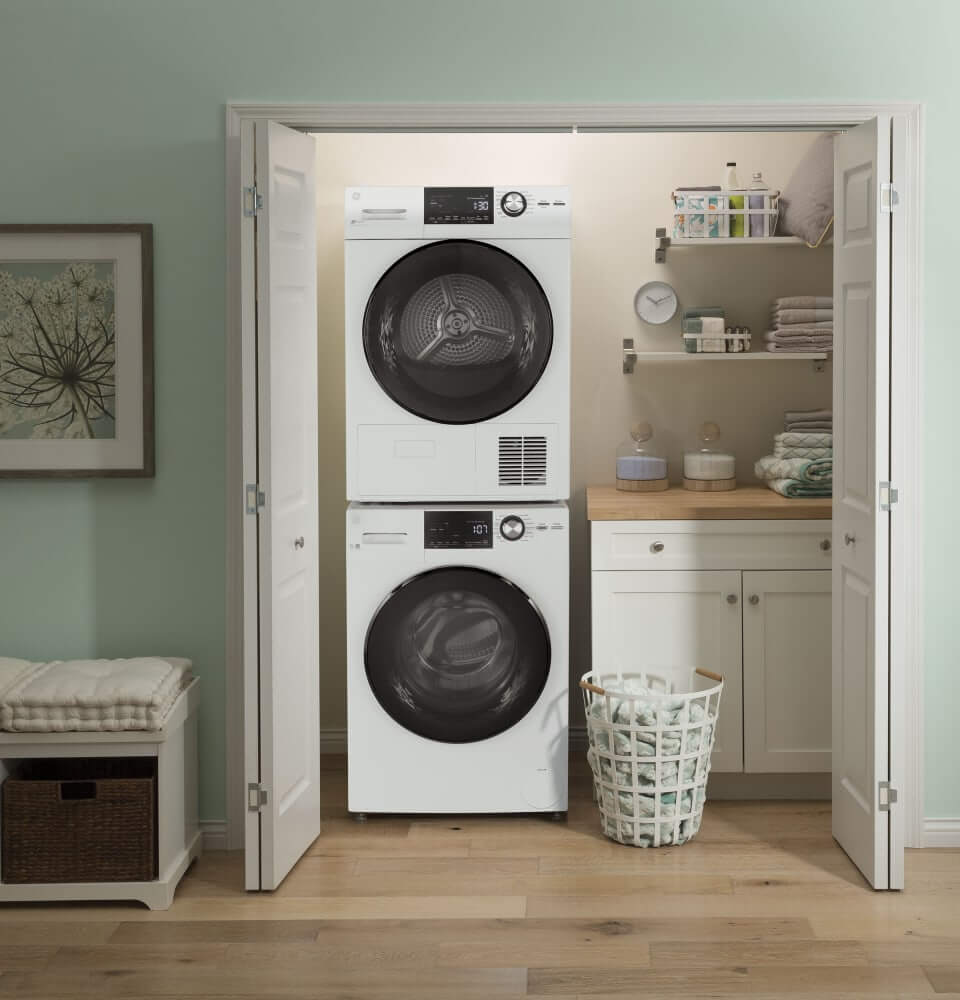 Stacking your small washer and dryer on top of each other will offer you more space in your laundry room so that you can fold clothes, iron, or just to move around in that area. These appliances also use up less water and electricity, and are available at a cheaper rate in the market.
Purchase Portable Storage Containers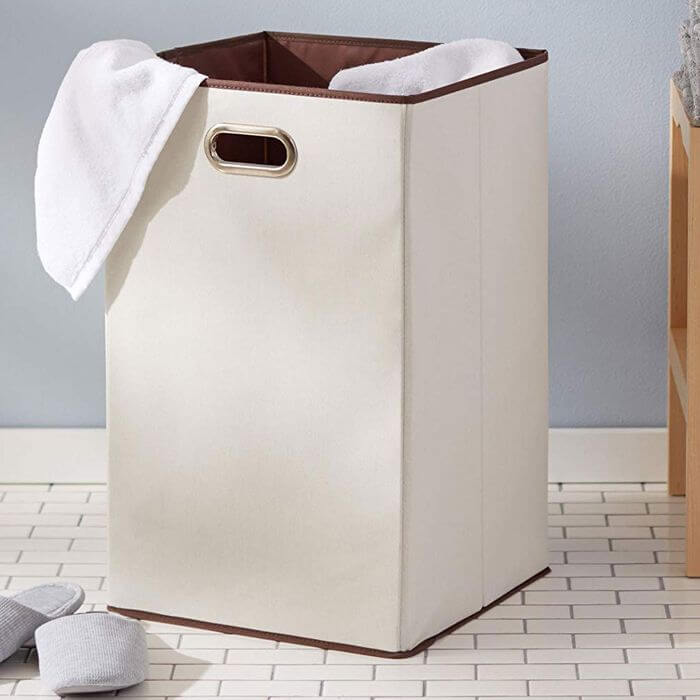 Instead of installing dressers in your kid's room, put your kid's clothes in storage containers where the clothes can be kept on top of each other and the kids get more floor space in their rooms. Storage bins are also a great way to keep your out-of-season clothes like your winter jackets or sweaters.
Living Room Home Renovation Ideas
Keep Everything Simple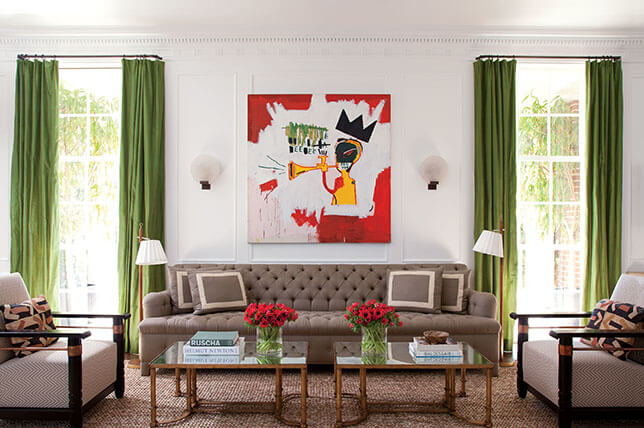 Do not choose complex themes and décor while renovating your house since it will make your home look too messy. Opt for simple designs that will give your home an open and spacious look. If you are seeking any home remodeling service you can contact any home renovation company by contacting https://www.homeservicedirect.net/.
Prepare A Flexible Setup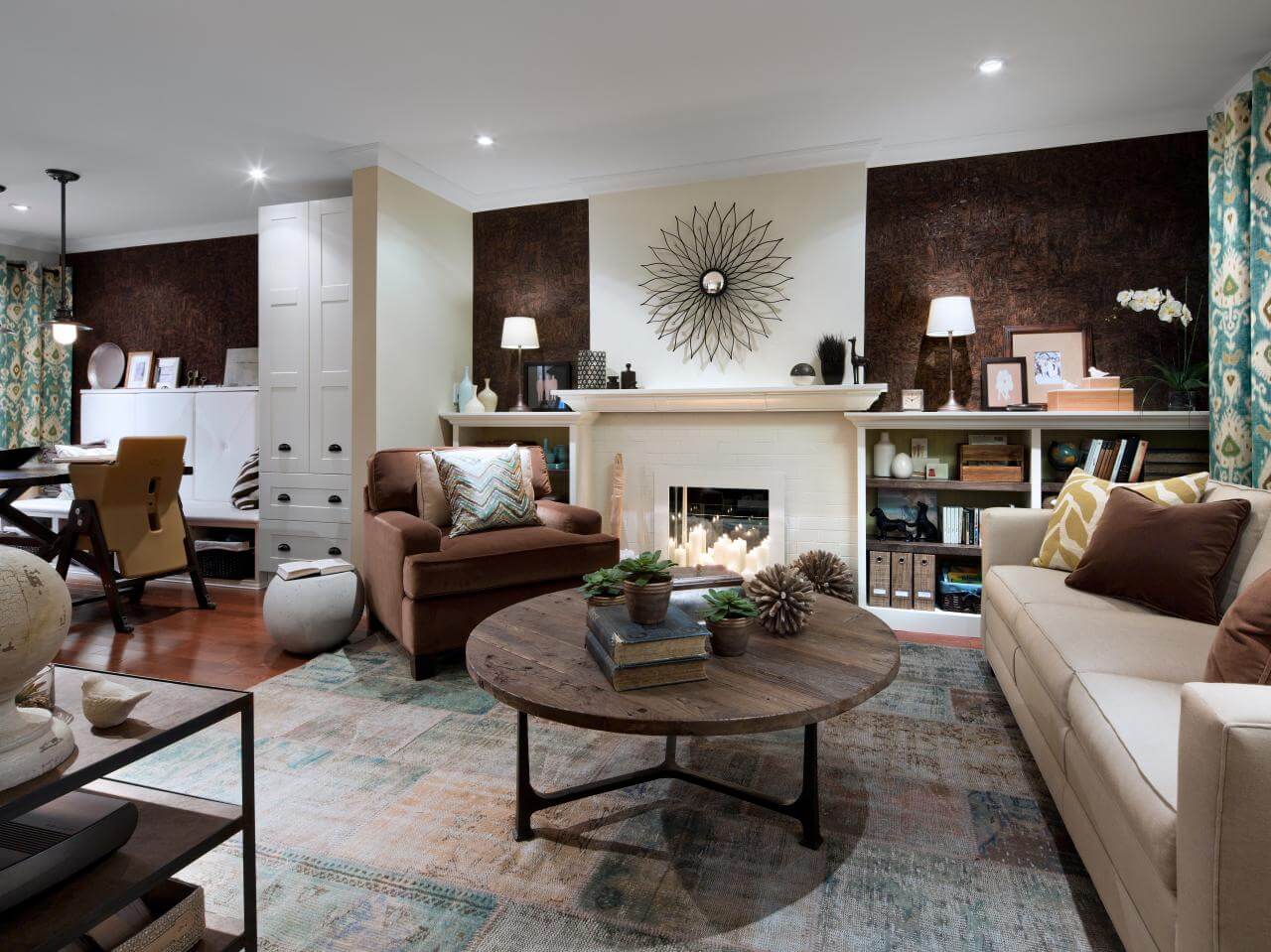 This is one of the important home remodeling ideas. You should be ready to change the setup of your house since you cannot stick to only one format all the time. Be ready to think out of the box and think of unique ways that you might shy away from in the beginning.
Choose Colors Carefully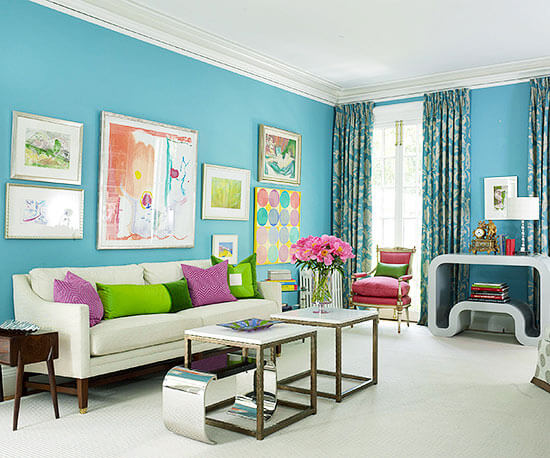 Different color combinations will give your home different vibes. Choose a color that matches your elegance. Use a large contrast of colors in your home renovation if you want to give your home a dramatic look. If you want to give your home a minimal look then use an all-white palette. You can use vibrant and bright colors if you want a more welcoming look.
Sort Out Your Living Room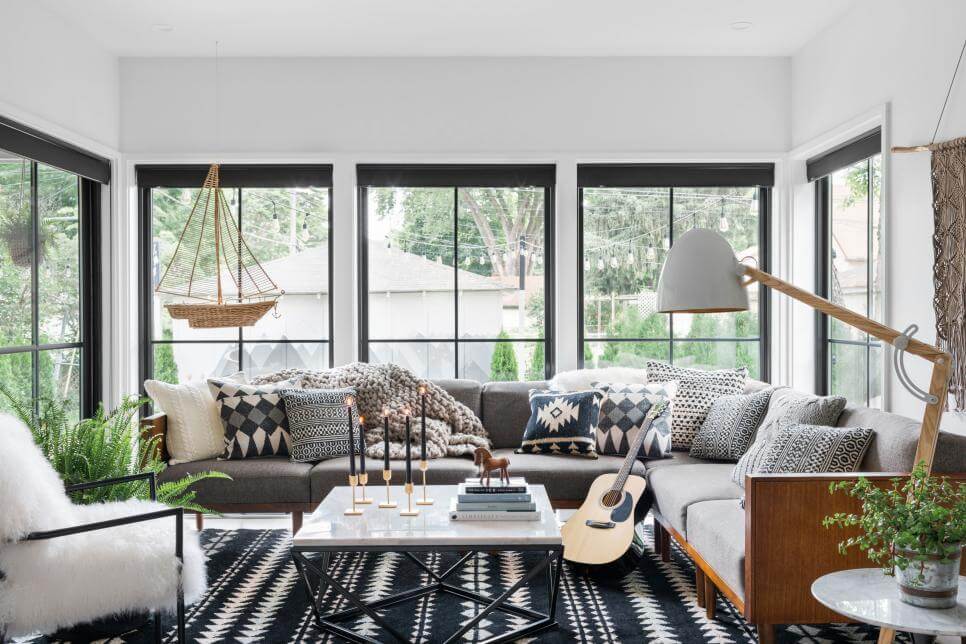 If you organize your living room, it will look large and neat. Your living room will look more welcoming and fresh if you place adequate lights in there. Chandeliers, floor lamps, art lights, table lamps, picture lights, ceiling fan with a light kit, and even overhead lighting fixtures will make your living room look lighter and brighter.
Rearrange Furniture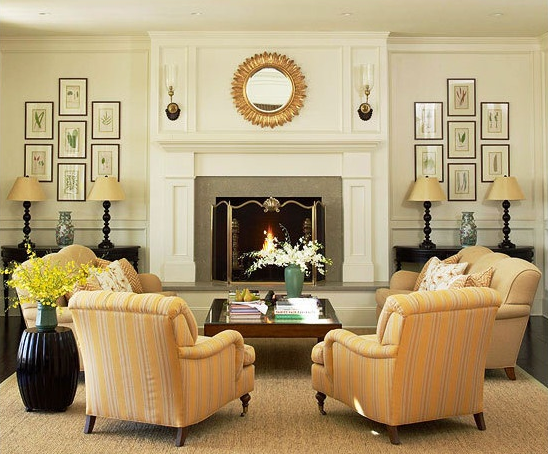 Your living room will look more big and welcoming if you rearrange some furniture. For example, moving your sofa away from the wall is one of the easiest types of home renovations. It also tends to give your living room a more intimate look.
Place A Log Table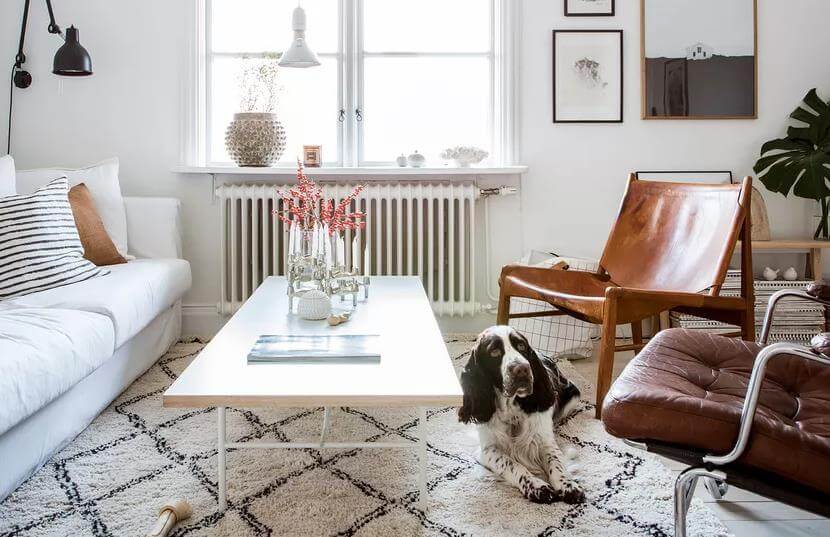 A log table can be an attractive centerpiece of your living room. It provides a sense of comfort and homeliness which will make you want to spend more time in your home. This log table is made of wood and can be easily cleaned. But please be careful with the splinters.
Mount The Television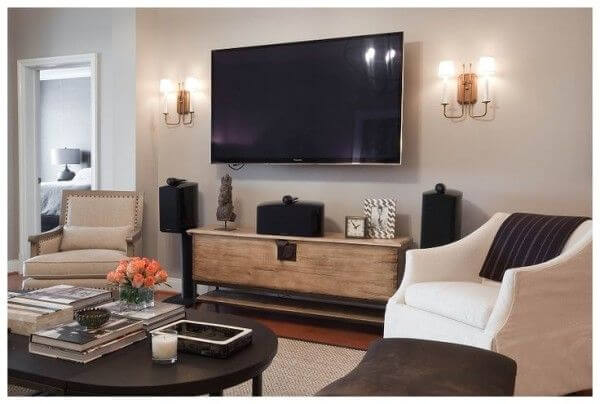 Purchase a flat-screen TV that does not require a stand and mount it on the wall. In this way, you will gain more floor space. Hence, you will be able to add some other items that you want to keep in your living room.
Incorporate Houseplants In Your Living Room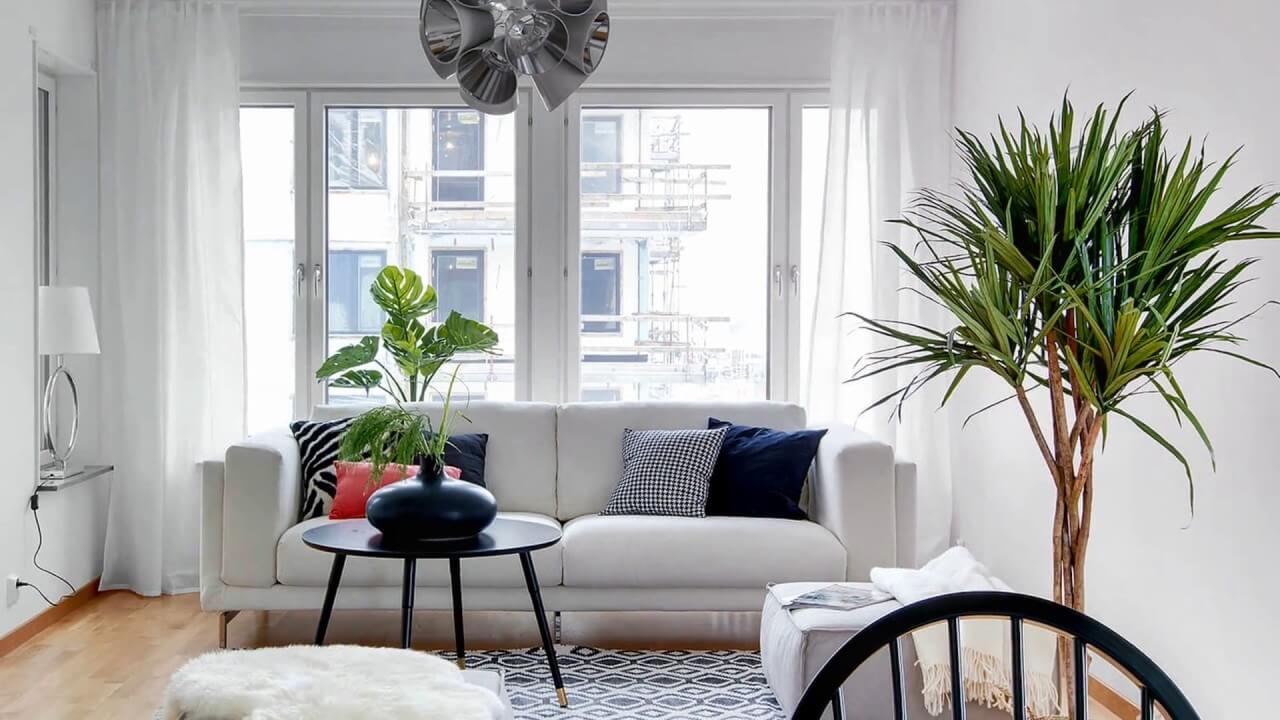 This is one of the best ways to add value to your home. Plants are used in interior décor for not only its beauty but also because they give a fresh feeling. Houseplants are refreshing and also add oxygen to remove toxins from the air.
Display Sculptural Artwork Or Meaningful Photos In Your Living Room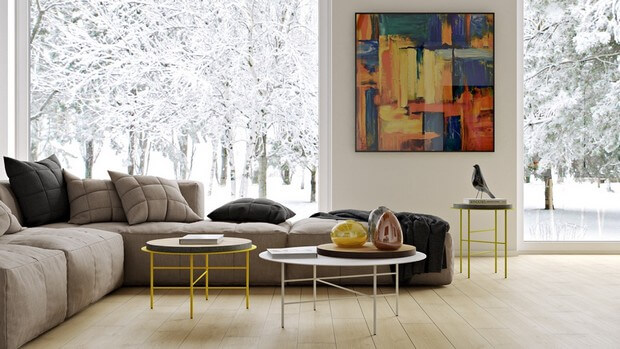 Incorporate some sculptural artworks when you are decorating your living room. You can opt for small sculptures like tiny Buddha figures to decorate shelves or a side table. Or else you can choose a big, free-standing sculpture to be the focal point of your living room. Also, you can buy a few small canvases and some paint from your local craft store to make some art of your own, and keep them in your living room.
Accessorize Decently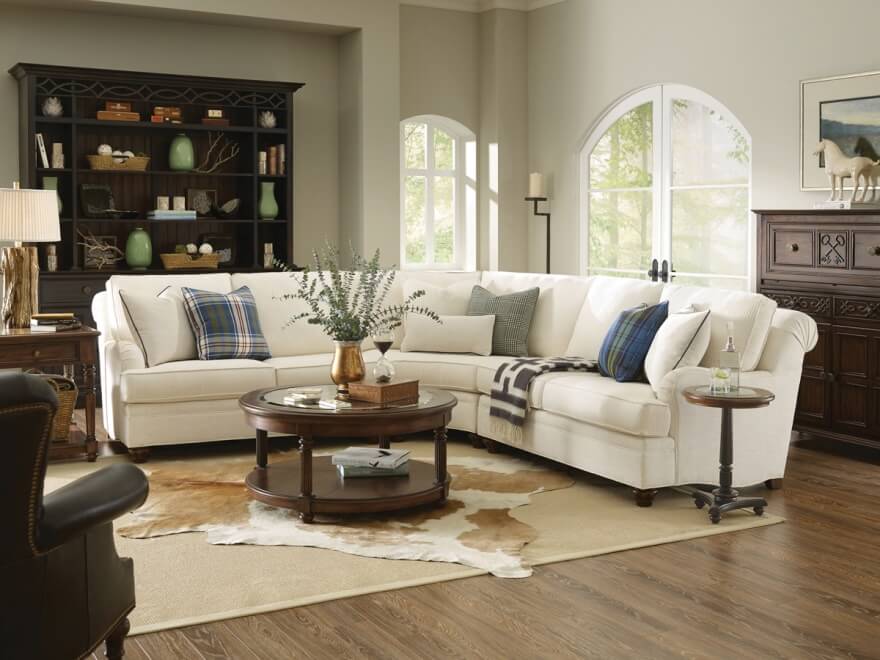 Add a throw blanket and a few small pillows to make your couch comfortable. Too many accessories in your home will only lead to a mess. Also, pick patterns and colors that will complement the rest of your home.
Mount Photographs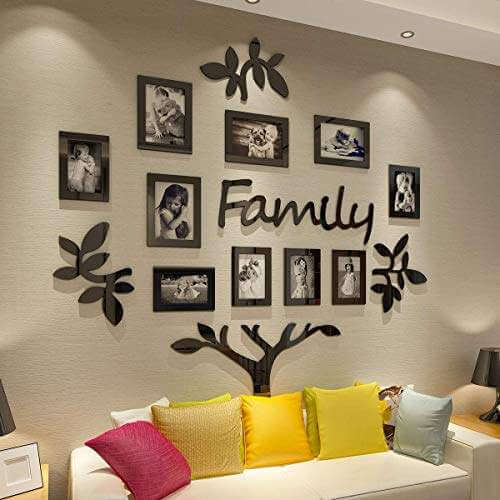 While renovating your home, you can also mount some photographs if you have some wall space available in any room. Print the photographs in black and white or sepia to create a sense of consistency. Try experimenting with the layout of the gallery wall so that it looks attractive to your eye.
Kitchen & Dining Room Home Renovation Ideas
Give Your Kitchen A Makeover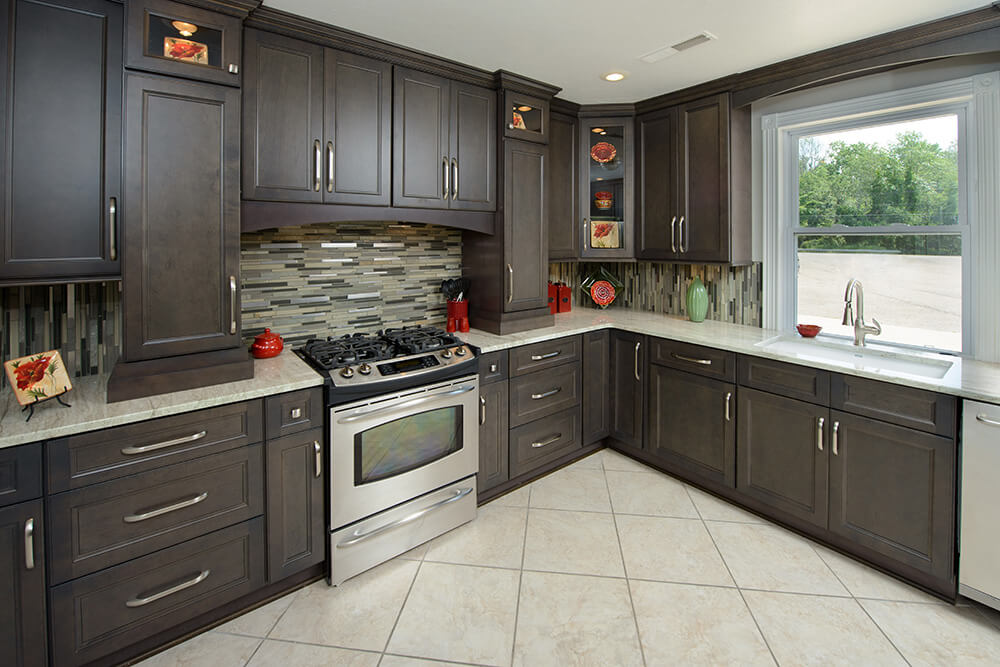 You can buy new cabinets to renovate your kitchen but it is not essential. You can also paint or stain your kitchen cabinets for an immediate and inexpensive makeover. Painting not only gives a fresh look to your home but also gives a good makeover to your existing kitchen cabinets. If you do not want to paint the kitchen cabinets, then you can also cover your cabinets with fun wallpaper.
Install Contemporary Kitchen Hardware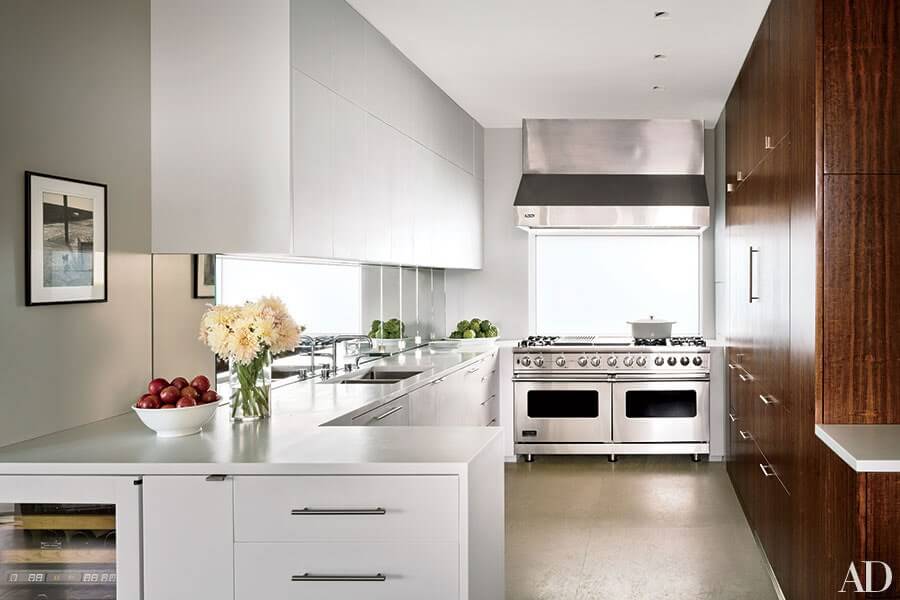 If you don't have much time to redecorate your entire kitchen's cabinetry, then you can install contemporary hardware like knobs, pulls, and handles which will add significant value to the kitchen's look. This small detail can give an outdated kitchen a retro look.
Upgrade Your Kitchen Appliances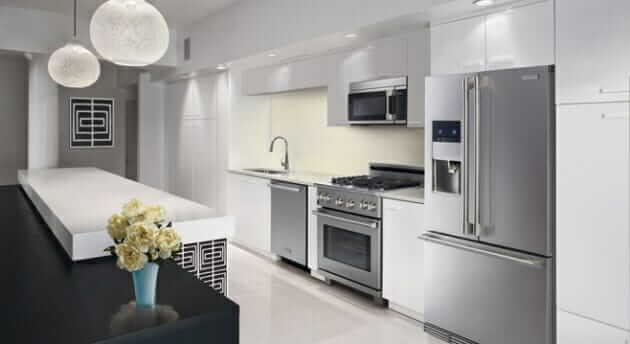 Replace your outdated kitchen appliances with new energy-efficient appliances. Energy-efficient appliances use 10-50% less energy and water than traditional appliances. If you cannot replace them due to some issues, then thoroughly clean each kitchen appliance to make it sparkle as much as possible.
Add Or Upgrade The Kitchen Island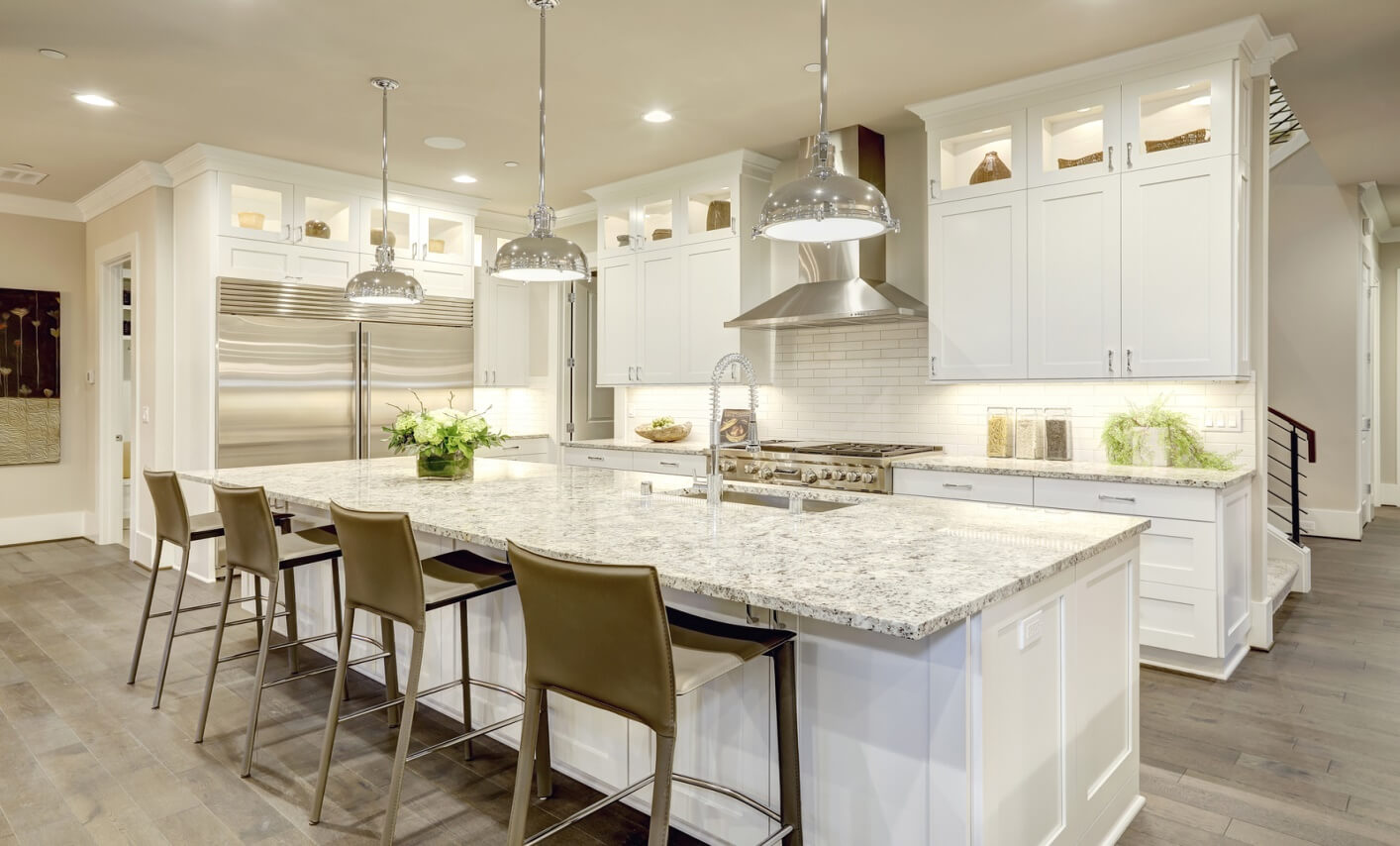 A kitchen island offers you more counter space, extra storage area, and additional seating options. You can upgrade your kitchen island by doubling it as a minibar, with racks above the counter for drinking glasses, and by adding the storage space below to store wine, etc. Also, do not forget to add some additional electrical outlets to the kitchen island during your home renovation, to assure full functionality.
Also Read: Home Improvement: 6 Trending Kitchen Remodeling Ideas in 2020
Install A Mini-Fridge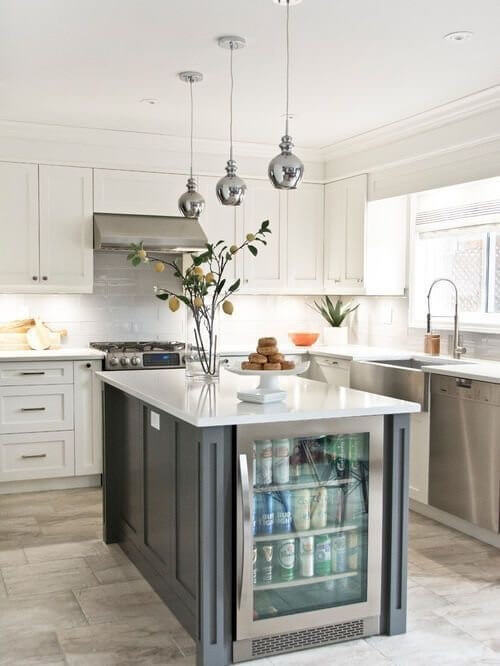 You might need a smaller fridge for keeping smaller items that you need at your fingertips while cooking. For that, you need to install a mini-fridge into your kitchen island. In this way, you will be able to keep all your fresh produce here and thus it won't take up any space in your larger fridge.
Install A Statement Piece For The Dining Room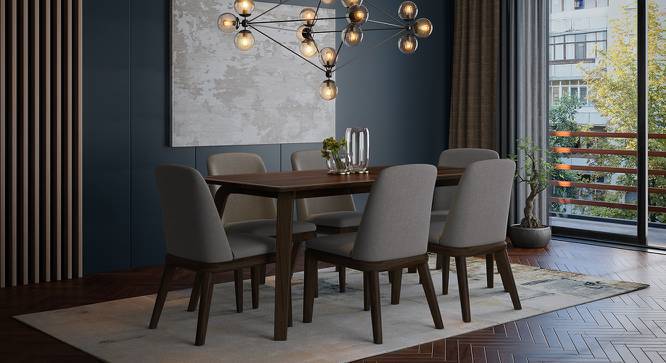 Your dining room chairs should be comfortable. While renovating your dining room, you can set-up mixed chairs around the dining table or you can bring in a unique chair at the head of the table. This will give your dining room a visually appealing look.
Give Your Dining Tablescape A New Look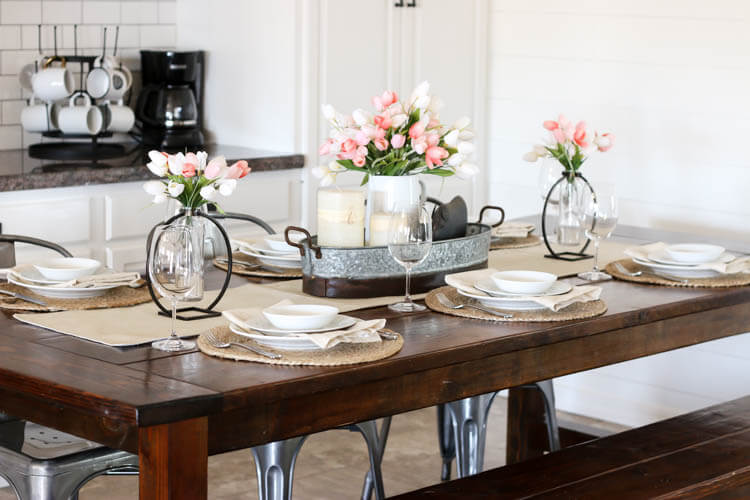 Replace your dining tablescape with something fresh and new. Also, if you have recently repainted your table, then it will draw more attention and create an attractive focal point. But how will you set your table? You can decorate your table with fresh table cloths, fruit-filled bowl, flowers, and so on.
Bathroom Renovation Ideas
Set-Up A Smart Toilet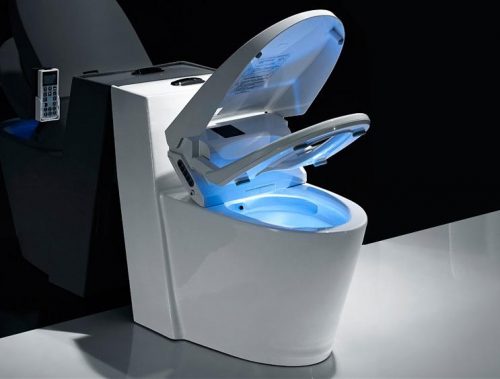 A smart toilet can save you from unfortunate accidents that might occur if you go to your bathroom at night. Owing to technological advancements and with the help of your smartphone, you can have a toilet that lifts the seat for you. By tapping on a few buttons on your app, you will have the ideal smart toilet that is ready to receive you.
Upgrade The Easy Things Of Your Bathroom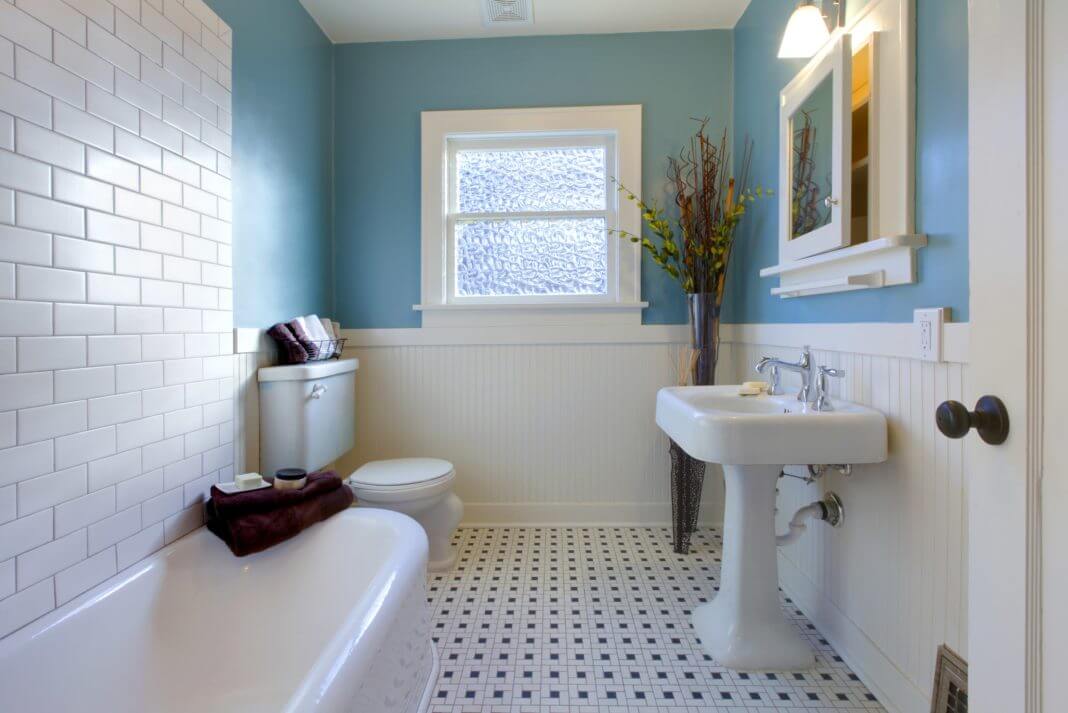 You can give your bathroom an appealing look by upgrading the easy stuff. You can consider putting on a new toilet seat or a new toilet paper holder. Replace old or broken vanity hardware for modern, clean-lined knobs and pulls. You can also swap out a dirty or outdated bathroom sink faucet for a stylish one inexpensively.
Install Bathroom Storage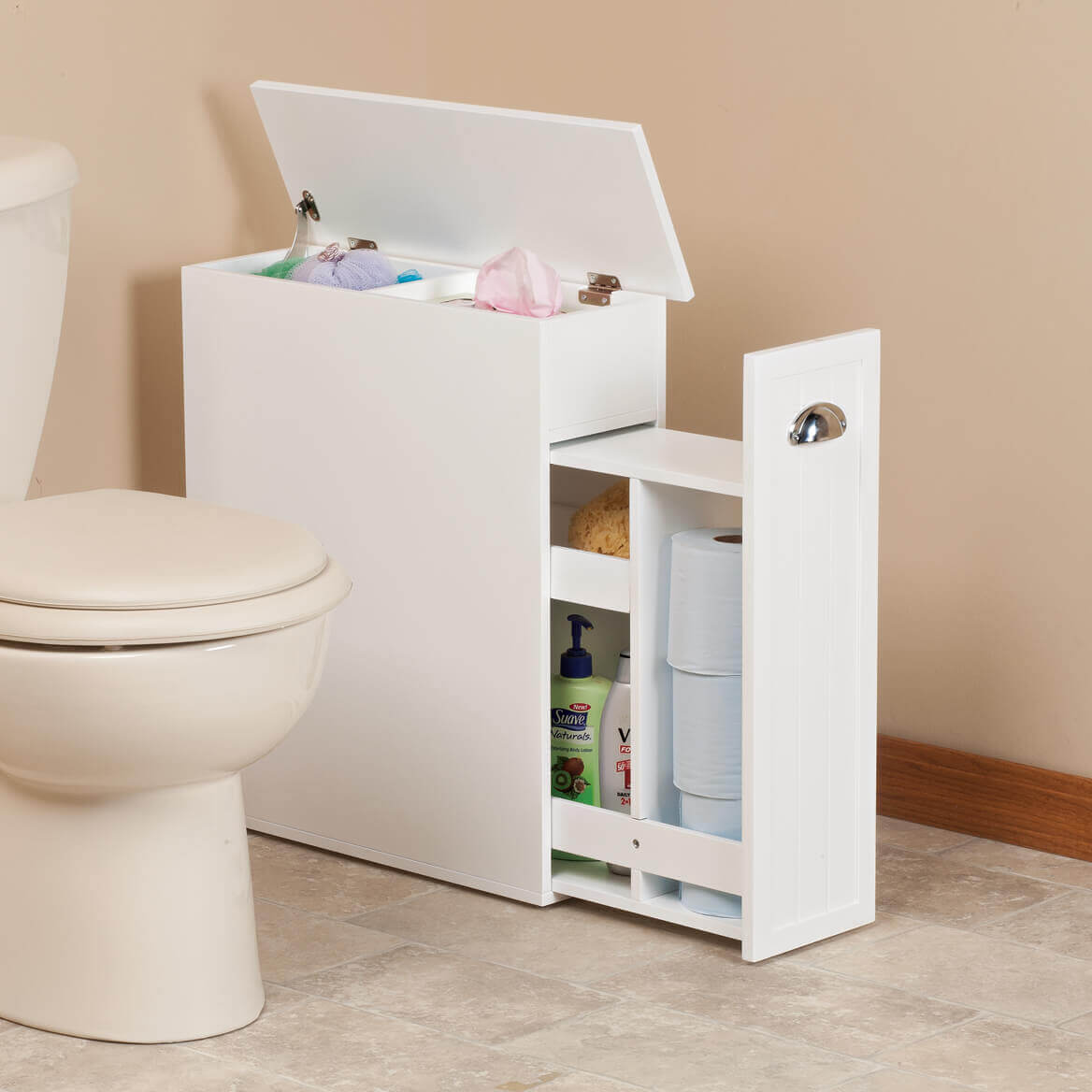 Make your bathroom more spacious. To clear the room from any mess, you can install great bathroom storage. Clean-lined floating shelves give a modern look to your bathroom without abandoning precious bathroom square footage. You can also build your personal custom storage shelving and attach it to the side of your bathroom vanity. In this way, your bathroom will look cleaner, fresher, and more spacious.
Keep Your Bathroom Clean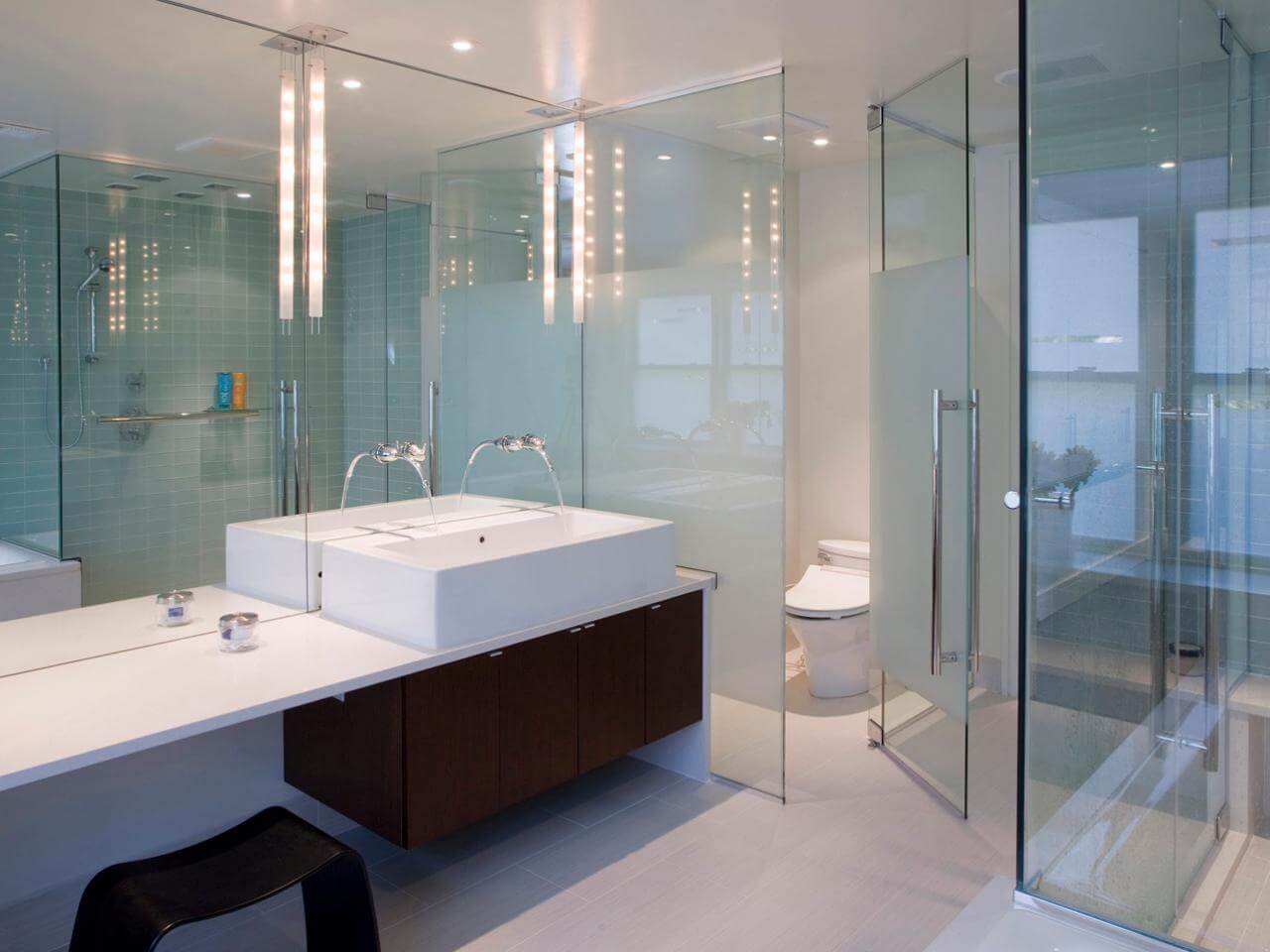 Give your bathroom a full floor-to-ceiling scrubbing. Scrub dirty tile grout, remove rust stains, clean the bathroom mirror, scrub countertops and toilet, clean the bathtub, wash the bath mat, and so on. You can use all-natural ingredients such as baking soda and diluted white vinegar to clean your bathroom.
Install A Showerhead Speaker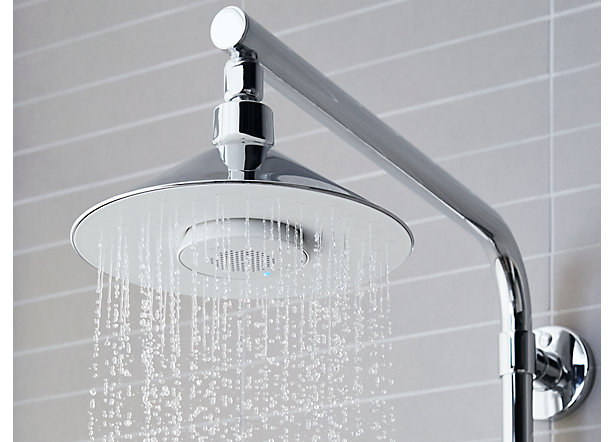 If you are someone who loves singing to their favorite songs when they are in the shower, then consider adding speakers to your showerhead. Most of them connect wirelessly through Bluetooth to your mp3 player. These speakers will bring you your tunes while you are showering.
Replace The Old Bathroom Lighting Fixtures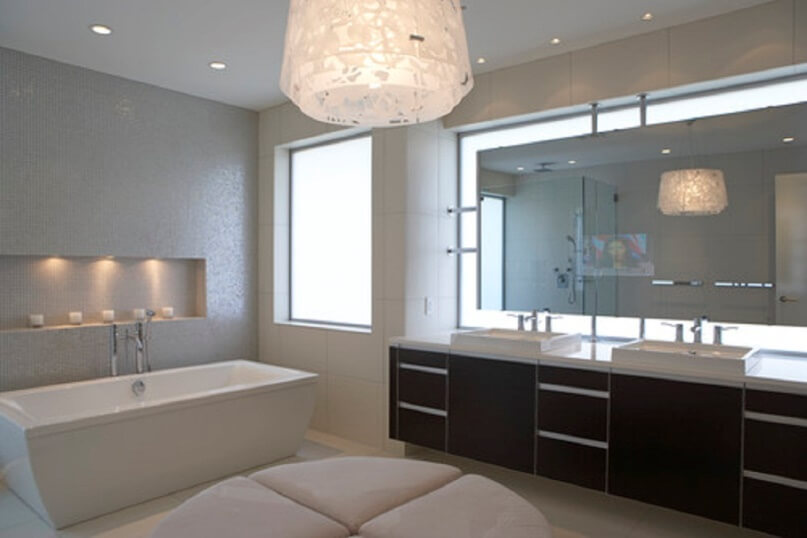 While renovating the home, people tend to overlook their bathroom. Bathroom updates are a good idea for home renovation and one of the simplest and inexpensive renovations to make. You can start by replacing outdated lighting fixtures in your bathroom for something more contemporary, or any other thing that works with your bathroom style. Good lighting would add style to your small bathroom space.
Bedroom Renovation Ideas
Brighten Up Your Bedding Style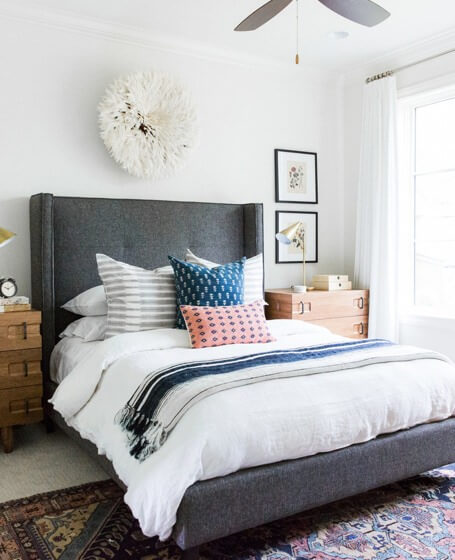 Fresh bedding is one of the simplest ways of introducing a new style and feel to your bedroom. Consider adding a duvet to your bedding and choose color combinations that you love. Apart from this, keep selective pillows so that they don't take up your entire bed.
Take A Look At Your Window Treatments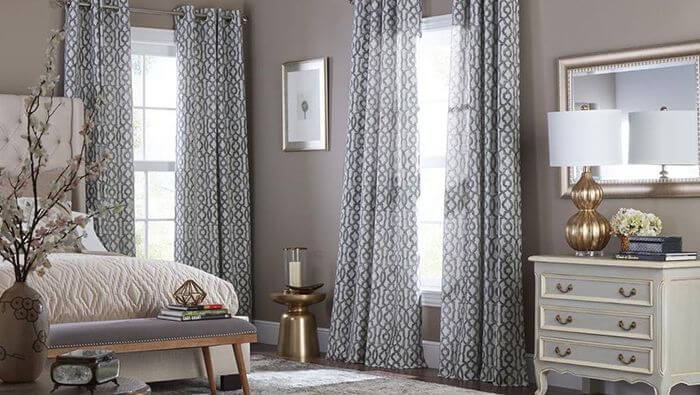 Dust layers gathered on the tops and sides of drapes do not look appealing neither do they add any value. The choice of window treatments can have a big effect on the overall interior decor. These days, people want more natural light to come inside their home. Hence, scaled-back window treatments are a renowned way to get it.
Install Baseboard Drawers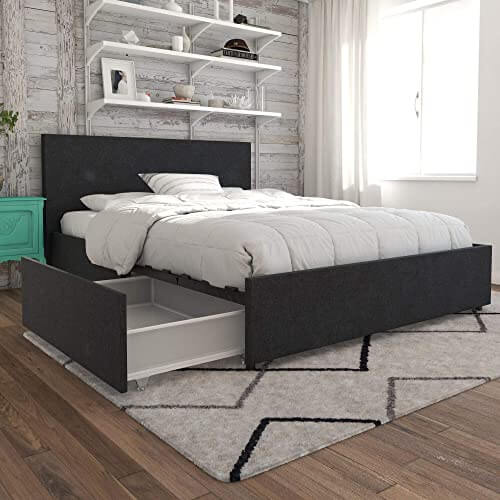 Utilize the space under the bed and cabinets. Add low baseboard drawers where you can store the additional items lying around the house, and thus your house would look cleaner. This is very important during the mobile home renovation when have to utilize the smaller amount of space you are working with.
Update Bedroom Lighting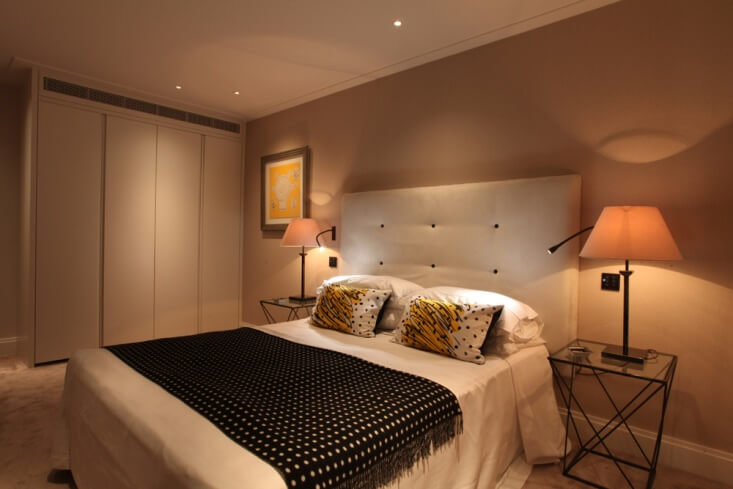 The bedroom needs to be warm and relaxing where you feel safe, and the atmosphere is calm and peaceful. Lighting is one of the most important components that influence the overall atmosphere of the bedroom. You can choose bedside lamps for a simple look. Sconces are another good option for your bedroom. It can create a warm, cozy, and welcoming atmosphere. You can also use recessed lighting to create a formal décor in your room. Recessed lighting is very popular in bedrooms and creates beautiful shadow effects.
Toss down an area rug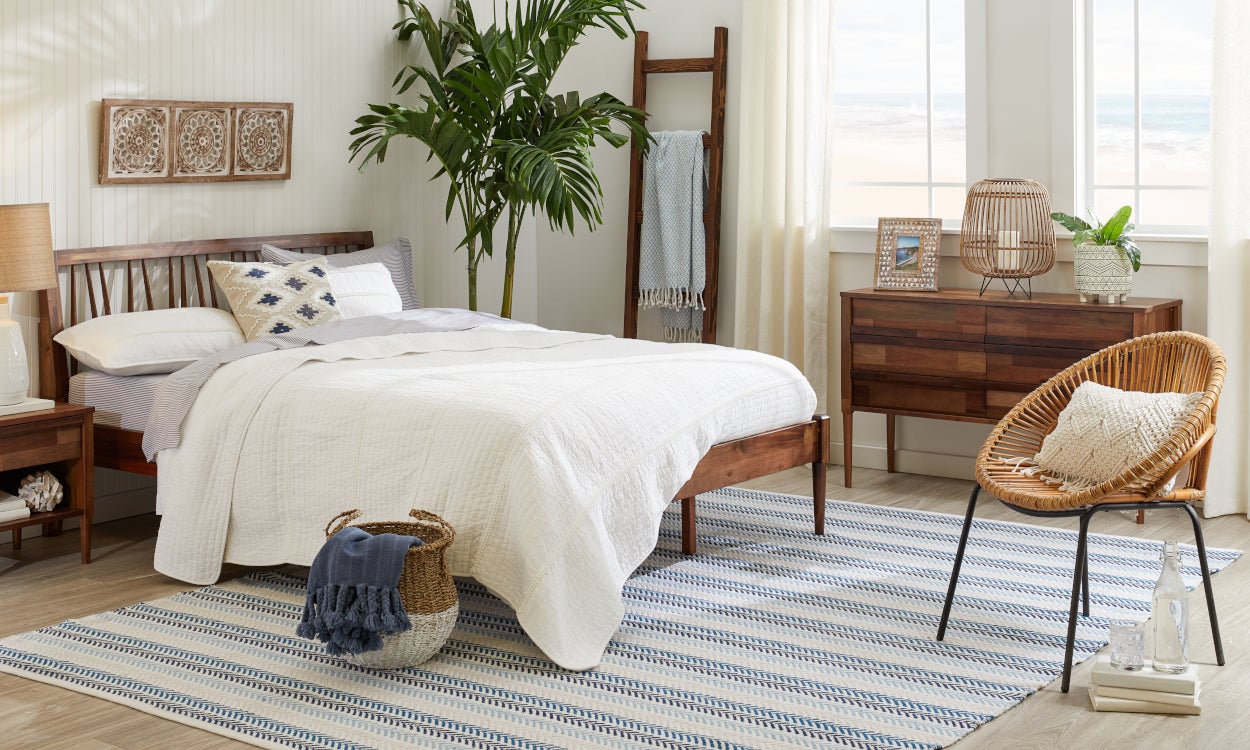 Even though you have a carpet in your bedroom, throwing down an area rug is one of the simplest ways to give a modern look. However, be sure to select one that is big enough to tuck under the bed and at least one other segment of furniture. This is one of the easiest options to establish a more intimate and cozy space within a bigger bedroom.
Exterior Home Renovation Ideas
Upgrade Your Front Area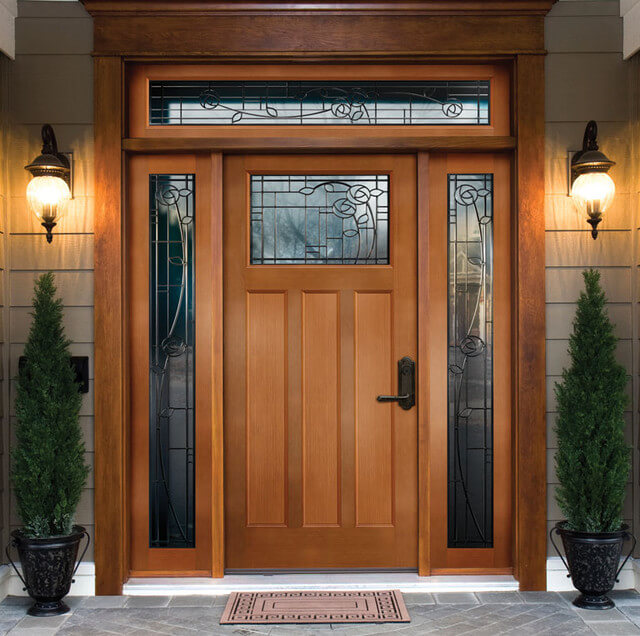 Upgrading your front door is very important since this the first thing a person will notice while they are entering your home. Hence, it is a vital part of any visitor's first impression. You can make your entryway smarter and neater by painting your front door, installing a modern front porch light, replacing your old doormat with a new one, giving your mailbox a makeover, or by thoroughly cleaning the front of your house.
Clean Your Lawn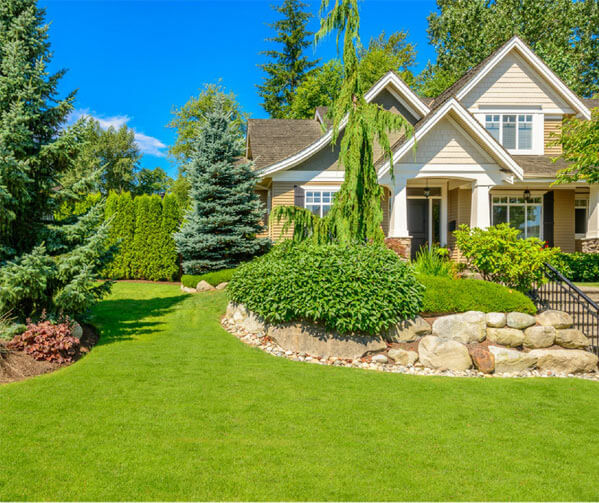 The sight of the patchy lawn and overgrown bushes looks untidy and makes you feel uncomfortable. An essential component of home remodeling is a tidy lawn and a beautiful landscape. You can think of putting drought-tolerant plants if you are not very good at gardening. Trimmed grass, pruning shrubs, and bushes, go a long way to make your home alluring.
Conclusion
So, what are you waiting for? Follow the above 45 home renovation ideas to add significant value to your home.
The following two tabs change content below.

Nirupama Verma is a self passionate blogger, managing a bunch of informational blogs. She has written a lot of informational content for several popular blogs.

Latest posts by Nirupama Verma (see all)