Moving into a new apartment or feeling the urge to redecorate? Either situation can feel stressful, confusing, and overwhelming. To ease these senses of uncertainty, we have added 7 tips for you to make your place feel like a home. Read on as these ideas will help you feel more comfortable in your space. You will feel excited yet relaxed every time you open the door!
1. Canvases
Adding photos around your apartment will give the perfect personalized touch to make you feel like your place has heart and meaning. Use hanging canvases to decorate your walls with customized photos. Choose photos of your family, friends, pets, and loved ones to display around your apartment – you will always feel surrounded by love and people that make you smile.
You can customize your canvas with quotes, phrases, dates, names, and other special effects to add that special touch. There is no better way to make a house become a home than presenting photos of those you care for. Any place feels like home when you have your loved ones with you!
2. Plants
Placing various plants around your apartment adds a creative and fresh touch to the space. Greenery or flowers can liven and brighten up any room as well as cute planters to place them in. If you are a beginner when it comes to plant-caring, start with a pothos plant, succulents, or a snake plant.
These are some of the easiest indoor plants to care for as they do not need to be watered often. Find cute pots and planters at your local nursery to add even more color to your space. Keeping live plants in your space will make you feel energized yet grounded.
3. Artwork
Nothing ties a home together like artwork on the walls! By placing art into your apartment, color and vibrancy is immediately added to the space. Find some of your favorite pieces on sites where you can purchase prints or frames to create energy on your walls.
Not only will you enjoy seeing your favorite artworks around your apartment, but it will be a conversation piece with guests. If you have a certain accent color or theme around your space, consider grabbing art pieces that enhance those colors.
4. Throws and Blankets
Keep your apartment cozy and comfortable by adding a couple of throw blankets and pillows on your bed and couch. Comfy blankets and pillows will make you want to curl up and read a book on the couch all weekend long! Add a basket next to your couch full of soft blankets for you and your guests to snuggle in while watching a movie.
Not only will you feel more restful with the blankets and pillows, but your place will look inviting and warm as well. Feeling comfy and cozy in your apartment is practically the definition of "homey!"
5. Rugs
Not only do rugs soften up a space, they add color and prevent sound from bouncing around a room. Go all out with the style of the rug – this is where you can really have some fun with decorating a space. Styling a room with a rug is a great way to express your personality and sense of flair.
Whether the style of rug you choose is bohemian, modern, solid, fur, leather, or fuzzy, it will connect all your furniture and artwork together. Perhaps focus on an accent color in your throw pillows or artwork and tie that in with your rug.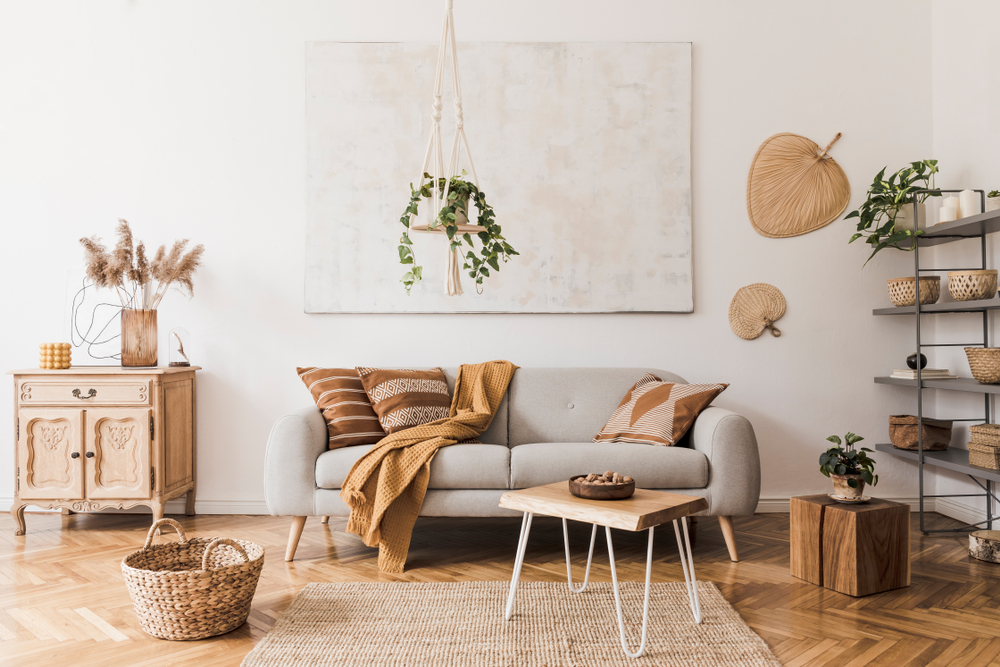 6. Welcome Mat
Warmly invite your guests into your apartment with a cheerful welcome mat! Right off the bat, a sweet or funny welcome mat sets a positive tone for those entering your humble abode. Your guests will be pleased with the mat and you will also be excited to come home after a long day. Opt for a welcome mat with a fun pattern, vibrant colors, or a hilarious phrase.
7. Bookshelf
Gather all of your favorite books and place them on a shelf. This is where you can really have some fun – organize your books by size, alphabetical order, or color! Presenting your favorite books in your apartment will add a nice personal touch and can easily spark interest within your guests.
How will you personalize your space? Share with us in the comment selection below.
Image Credits: istockphoto.com
The following two tabs change content below.

Nirupama Verma is a self passionate blogger, managing a bunch of informational blogs. She has written a lot of informational content for several popular blogs.

Latest posts by Nirupama Verma (see all)