In the year 1954, United Nations Universal Children's Day was founded. On every November 20th, in order to promote international togetherness, improving children's welfare Universal Children's day is celebrated. Translating into dialogues and actions to build a better world for children, Universal Children's Day inspires everyone to promote and celebrate children's rights.  In 1959, the UN General Assembly adopted the Declaration of the Rights of the Child & in 1989 the UN General assembly adopted the Convention on the Rights of the Child. Hence, 20th November became an important date.
Not only this, in 1925 the world community got together in Switzerland, Geneva to discuss about the well being of children. To put some light on child issues and the publication of modern children's books with illustrations, the Soviet Union led the call for a date. A date was then decided for International Children's Day that was June 1st but countries like Britain have their own national children days on specific dates.  In the main, the International Children's Day was an initiative with an intention to raise awareness of issues affecting children. Every country around the world celebrates International Children's Day in a different way. In Ukraine, the day is celebrated with baby races and in Bulgaria there are musical parades where children are encouraged to play instruments.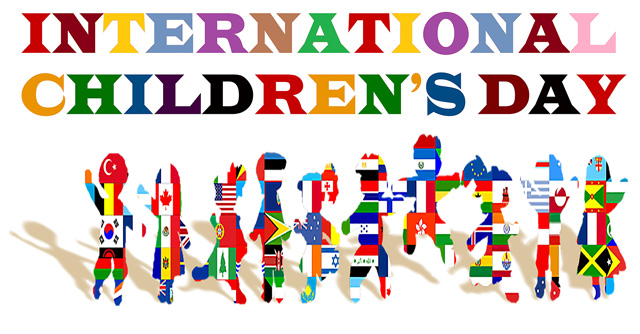 International Childrens Day – Photo Credits: Africanbrains.net
Every country has its own National Children's Day, every second Sunday in June is the National Children's Day in US where as in UK, and May 13th is the National Children's Day. However, the dates are different in the world but Happy Children's Day is celebrated to make every child's childhood a healthy one as well as to protect their rights and freedom. Happy Children's Day has now become an important day reviving, celebrating, and committing to our children a better future.
November 14 Children's Day is commemorated as the birthday of Pandit Jawaharlal Nehru. It's a special way to remember our first prime minister. Why we celebrate November 14 as Children's Day has a big reason behind it. Pandit Jawaharlal Nehru being a good statesman was immensely fond of children. He was popular among the children as Chacha Nehru. As per his thoughts, he used to consider children as the future of our nation. With his believe that children have innocent heart and they win the heart of everyone with their innocent and angelic smile. He always wished that his birthday would be celebrated as the Children's Day.
This Children's Day 2020 try to give the children of our nation as much as affection and love possible in a different way and try to enhance the growth of Indian youth. Here are the Children's Day Ideas for Schools to make Children's Day 2020 a special one by following the ideas listed below:
Children's day speech: Through your Speech tell them how our youngsters should make the nation more proud. Giving Children's Day Speech, it would be a better way to make them come across what Jawaharlal Nehru Ji wanted from every child of India.
Games Day: Allowing children to play the games they loved to play as their hobbies would make them happy. Also, you can plan out some games for them, this way they will be able to enjoy children's day to the fullest.
Debate Session: You can organize some debate sessions on different topics such as Children's Day Essay. You can decide some topics that give them inspiration and to do something in life that is beyond their capabilities.
Organize Theme Party: All around the globe every child loves to party. Organizing a theme party would make them remember the special day of their life. And Making the early stages of our children a memorable one, giving them good thoughts
Drawing Competition: Organize drawing competition for them and ask them to create the picture of Pandit Jawaharlal Nehru ji. They would found this a great fun and would love to participate as well.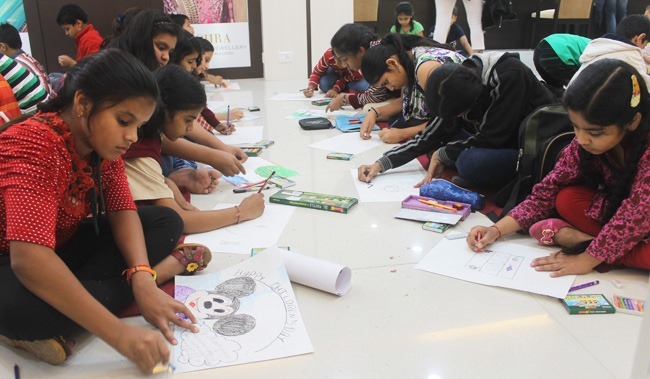 Drawing Competition on Children's Day – Photo Credits: UdaipurTimes.com
There are many Children's Day Celebration Ideas.  You can choose any of them for Children's Day program in Schools or you can use them for Children's Day Program by Teachers.
While planning out Children's Day celebration activities do keep in mind the choice and preferences of children. Children's Day School Ideas can be suggested by them as well as this would make their mind exercise a lot. They would love to come up with their ideas for Children's Day celebration in School. To make a day special that too children's day would be fun filled for you and the children participating in them. Children's day celebration can be made up to the mark for all by gathering some Children's Day event ideas by not anyone else but by asking the children of your school or locality to come up with.
The web is flooded with children's day celebration ideas and children's day quotes but going through children's day celebration ideas or children's day quotes would not make any difference till the day we don't realize why children's day is celebrated and how to make them more special on their day. So, here are some of the tips for Children's Day 2020. Do keep them in mind:
Make Arrangement for Music: Children love listening music, so while planning out any of the children's day events do make arrangement for music.
Cartoon Characters: There is no child on earth who does not loves to watch cartoons. So try to plan out something that includes their favorite cartoon character.
Giveaway Gifts: Planning out some competition then giveaway gifts should definitely be a part of the special day.
Children's Day Quotes: Prepare some Children's Day quotes. Sharing children's day quotes with children will give them something new to learn and come across.
Decoration Matters: Decorating the class rooms or their surroundings mater a lot. Children easily get overwhelmed by the attractive colors and beautiful things.
November 14th Children's Day is not just a part of our calendar but is a special day that is not only celebrated as children's day but is a day on which our Chacha Nehru was born. The day should be made as special as possible for children as well as for our Pandit Jawaharlal Nehru.
The following two tabs change content below.

Nirupama Verma is a self passionate blogger, managing a bunch of informational blogs. She has written a lot of informational content for several popular blogs.

Latest posts by Nirupama Verma (see all)