For many, the holiday season is nearly synonymous with stress about weight gain. And while studies show that the holiday weight gain story may be a myth, it never hurts to make choices that keep your body nourished and feeling good!
If the prospect of over-indulgence has you feeling stressed this holiday season, here are our 6 easy tips to help you maintain your health while on holiday.
1. Pack lots of snacks
Whether you're driving or flying to your holiday destination, the road (or skies) are packed with lots of less-than-nutritious snacks. Not only can sugar and sodium packed snacks leave you feeling sluggish, but they are pretty unsatisfying, too.
If you've got a day of travel ahead of you, pack lots of nutritious, travel-friendly snacks to keep the whole family satiated. Some of our favorites are:
Protein-packed chickpea hummus and pita chips or pretzels
Fresh fruit and vegetables like apples, carrots and more
Single-serving packets of peanut butter and other nut butters
Fruit and nut trail mix (choose one with a little dark chocolate for a treat!)
2. Keep it moving
Just because you're on vacation doesn't mean you've got to sit on the couch all day. Get your body up and moving once a day. That doesn't have to mean a trip to your hotel gym. You can throw on your sneakers and explore a new part of town!
If your kicks are a little worn out, snag a new pair before you embark. Nothing can bring an abrupt end to a day's adventure like uncomfortable shoes. There's a shoe out there for every person, whether you're looking for a running shoe for over-pronation, or the best running shoes for flat feet.
3. Don't forget the most important meal of the day
Breakfast, that is! Eating a regular breakfast can boost your glucose levels, preventing the large fluctuations in glucose that lead to dramatic swings in your appetite. Plus, making a healthy choice in the morning can set you up for nutritious choices all day long.
Breakfast is a bit challenging on-the-go, but it's certainly not impossible! Some of our favorite choices are:
Single-serving yogurts and a piece of fruit
2 hard boiled eggs and a slice of toast with nut butter
A whole wheat tortilla filled with scrambled eggs and sauteed veggies
4. Bring a reusable water bottle
It's extremely easy to get dehydrated while you're on the go. Dehydration can lead to headaches, nausea, low energy, and even require hospitalization if it's gone on too long.
When you're surrounded by the hustle and bustle of a brand new city, it's hard to remember to stop and drink some water. Our best tip for keeping hydrated is to buy a reusable water bottle and carry it with you wherever you go. That way, you'll remember to drink your water and you'll always have it on hand when you get thirsty.
There are so many reusable water bottle options these days; you're certain to find one that suits your needs. We love:
A collapsible water bottle for your purse or backpack
An insulated water bottle to keep in the car
A water bottle that holds at least 40 oz for hikes and other activities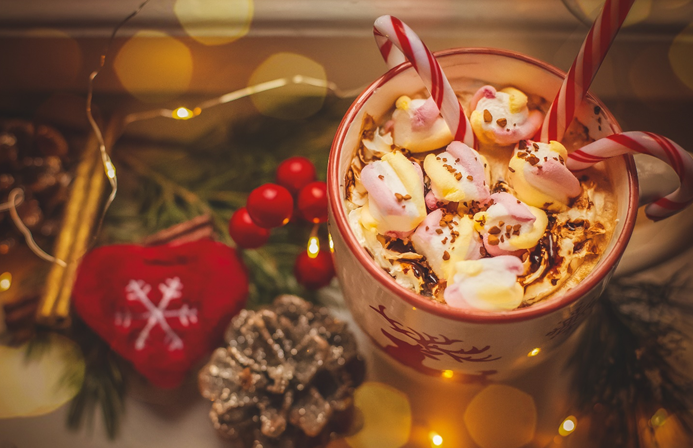 5. Remember to take care of your mental health, too
Mental health and physical health are so closely linked. It's imperative to take care of your brain in order to take care of your body, too. And while holidays can bring rest and relaxation, they can also bring stress and exhaustion.
Remember to take time for yourself during your travels. It's tempting to cram your day with activities, but you need time to recharge, too. Plan at least one night a week for some relaxation. Bring a book to enjoy during quiet time, or take a solo stroll to see the sunset.
6. Be kind to yourself
Holidays are a time to treat yourself. It's okay to indulge or to eat something you wouldn't normally eat. It's okay to gain a few pounds. Remember that you deserve happiness and don't let stress about your health get in the way.
Conclusion
With these tips, you'll enjoy a healthier, more fabulous holiday season. Happy holidays!
Image Credits: istockphoto.com
The following two tabs change content below.

Nirupama Verma is a self passionate blogger, managing a bunch of informational blogs. She has written a lot of informational content for several popular blogs.

Latest posts by Nirupama Verma (see all)