Over the past decade, content marketing has solidified as a core digital marketing strategy for most online brands.
However, despite the fact that content marketing has become a pillar in most marketing blueprints, only 28 percent of brands have a documented content mission statement, according to the Content Marketing Institute.
While some might not understand the issue, without a clear mission for one's content, it is hard to know if the strategy is a success or a failure.
This is especially true given that, like most marketing pushes, the content marketing strategies that work for one business may not produce the same results as for another brand.
However, when employing a mission-focused blueprint, content marketing strategies can increase conversion rates by six times.
That said, sellers can't boost their conversions if they can't first generate new site visitors.
To help ensure that retailers are employing a content marketing strategy that drives traffic, here are six tactics to encourage maximum eCommerce traffic.
1. Identify the Target Audience
While it may sound simple and obvious to know who the target audience is, it is rather surprising how many sellers are incapable of clearly articulating to whom the content is targeted.
The fact is that the target audience needs to be crystal clear before moving into the content production stage of a marketing campaign. If this foundation is not laid properly, it is sure to minimize the amount of traffic the content receives.
Some aspects that must be clearly defined include:
Age

Gender

Location

Education

Interests

Likes/dislikes

Relationship status
These are some of the basic elements that merchants must consider when identifying their target audience. Retailers may also find it extremely useful to create buyer personas as these will help to outline many of the factors outlined above, as well as many others.
2. Map Out the Overall Strategy
In order to utilize content to connect with a brand's target audience, a clear content marketing strategy must be in place. Therefore, sellers will want to outline the following factors:
Plan:

What is the objective in publishing the content (i.e., the mission, as discussed earlier)?

Create:

What kind of content will be crafted?

Distribute:

Through which platforms will the content be distributed?

Evaluate:

How will the success of the content be analyzed and determined?
In addition to these elements, retailers should also answer the following questions:
Why is content being created?

For whom is the content being generated?

What is the intent behind the content?
3. Define the Content Mix
When it comes to digital content, there is a variety of different formats that merchants can utilize, including:
Blogs

Articles

Infographics

Case studies

Videos

User-generated content

Podcasts

eBooks

Newsletters

Webinars

Interviews
This is just a small taste of the many different kinds of content that retailers might opt to include in their campaign. That said, not all content will perform equally with consumers. At the same time, a merchant's marketing team may not be equally versed in producing each format.
Therefore, it is essential that sellers establish which kind of content performs best with their target audience, as well as what their team is best geared toward producing. If there is a mismatch between the most advantageous kind of content and the format that resonates most with audiences, it is best to partner with an eCommerce content marketing agency that can ensure optimal results.
4. Optimize Content for Search Visibility
Search engine optimization is a critical component to creating content that maximizes traffic. After all, SEO statistics reveal that over 50 percent of all website traffic is driven by organic search listings.
When retailers generate content that is optimized not just for engagement and readability but for search engines as well, it makes it more likely that Google will be able to understand and index a piece of content.
Therefore, some content creation SEO guidelines that merchants will want to take into consideration are to:
Include Intent-Based Keywords:

By targeting and including keywords that speak to the intent of the user, sellers are more likely to generate content that ranks well.

Use Internal and External Links:

Including links that point to other authoritative websites as well as to relevant internal pages is critical for content optimization.

Employ High-Quality Visuals:

Images, GIFs, videos and other visuals are key to helping explain a piece of content and keep audiences engaged. No one likes reading walls of text.
5. Organize Content by Channel
Organizing content by channel is a necessary step that was momentarily touched upon earlier.
This step clearly delineates which content will be published through various digital avenues.
To start, sellers will want to divide their content distribution strategy into four different channels: owned, earned, paid and shared.
Owned
Owned content is everything from a brand that lives on its website and social media channels. This includes everything from blog posts and videos to optimized product descriptions.
As far as the blog is concerned, sellers will want to come across as an authority in their niche, positioning the site as a go-to source for all things related to the products offered. Therefore, merchants might consider producing guides, how-to articles, news updates and other informative pieces.
In terms of social media efforts, it is crucial for retailers not only to publish content through these channels but also to interact with followers and other pages via the comments section.
Earned
Earned media is publicity gained through promotional efforts other than paid media advertising.
To understand who some beneficial connections in this space may be, make a list of all the top sites within an industry. Next, remove all of the sites which are direct competitors and merchants will be left with a list of potential collaborators who may be advantageous to partner with later down the road.
Paid
Paid media is the advertising opportunities for which a merchant pays. It is wise for retailers to allocate a portion of their budget for advertising space on sites where their target audience resides to help gain exposure for content like contests, eBooks and the like.
Some of the most popular channels for paid media are Facebook, Instagram, Google and similar destinations. Moreover, sellers might consider utilizing strategies such as influencer marketing to help get their word out about specific pieces of content, particular products or their website in general.
Shared
Shared media is any content posted to social media regarding the business. This most often takes the form of user-generated content. Shared media goes beyond mere comments and reviews and encourages consumers to take an active role in the content.
Another popular form of shared media is user-generated content contests, like those that continuously run on Facebook and Instagram.
These can be highly effective in driving traffic to a merchant's site and exposing the brand to new audiences.
A well-known example of this is Calvin Klein's #MyCalvins campaign, for which the accompanying hashtag carries nearly 850,000 Instagram posts.
6. Create a Content Calendar
With the audience defined, strategy delineated, content optimized and all the pieces sorted, the final thing to do is to create a content calendar.
Implementing a content calendar will enable brands to keep their campaign focused and flowing. The primary purpose of the calendar is to allow brands to plan ahead for future content as well as keep their campaigns on schedule.
By building a content calendar, retailers will be able to regularly roll out various types of pieces through each of their channels, thus ensuring an even distribution schedule that keeps audiences continually engaged. This is key to driving traffic from different digital sources, thus maximizing the impact of the overall effort.
Without a content calendar, a content marketing campaign can quickly go off the rails and become a disorganized mess.
Final Thoughts
The key to successfully driving traffic by using a content marketing strategy isn't just creating killer content. It is having a clear plan regarding how the content will be generated, for whom it will be produced and how it will be distributed.
Without a clear strategy for how to get content to a target audience, a brand's hopes of generating traffic are dead in the water.
Take the time to research and understand the target audience, layout the overall content marketing strategy, establish the content that is most likely to resonate with consumers and plan a consistent distribution schedule.
Additionally, if your brand could use some assistance in cultivating the type of content that converts, reach out to Visiture's eCommerce content marketing specialists. We can establish a game plan tailored to your audience, ensuring the best outcome possible.
Image Source: mekshq.com
The following two tabs change content below.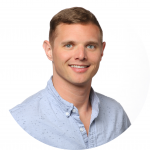 Ron Dod
Ronald Dod is the Chief Marketing Officer and Co-founder of Visiture, an end-to-end eCommerce marketing agency focused on helping online merchants acquire more customers through the use of search engines, social media platforms, marketplaces, and their online storefronts. His passion is helping leading brands use data to make more effective decisions in order to drive new traffic and conversions.