Diwali is the most anticipated festival of the calendar. It is celebrated to enjoy the triumph of light over darkness. It enlightens us to remove the internal darkness within us. It is an occasion when people reunite and share a sense of belongingness. Diwali decoration is a prime objective for the people. Decorating their homes with Diwali lights, gives them a lot of immense pleasure and joy. In a similar way, people also decorate their offices with decorative lights and items. In case you are falling short of ideas, we will assist you to decorate your home or office in a tasteful way.
Here are some Diwali decoration ideas:
Traditional Diwali Diya
Diwali festival is imperfect without the traditional diyas. Their presence has a dazzling effect. Now, coloured diyas are also available and those are quite appealing. Place them in every corner of your house and in the centre of your drawing room or hall in a pattern of Swastika.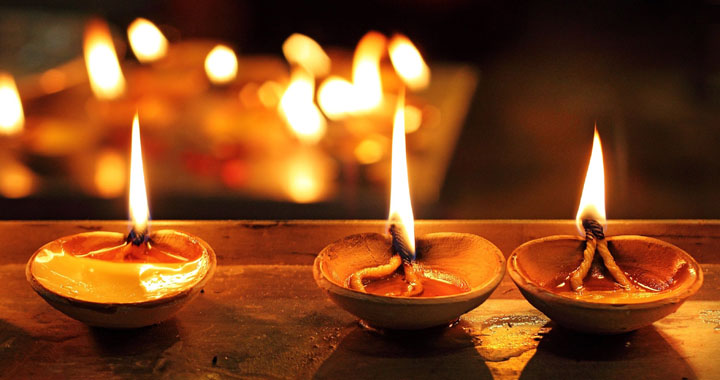 Diwali Rangoli
Rangoli is an integral part of traditional Diwali decorations. They give a pleasant view on the entrance of the homes. You can use colour powders, rice flour and flower petals to create rangoli of your choice. You can place coloured diyas in the centre or around the rangoli in a certain pattern to create an appeling view.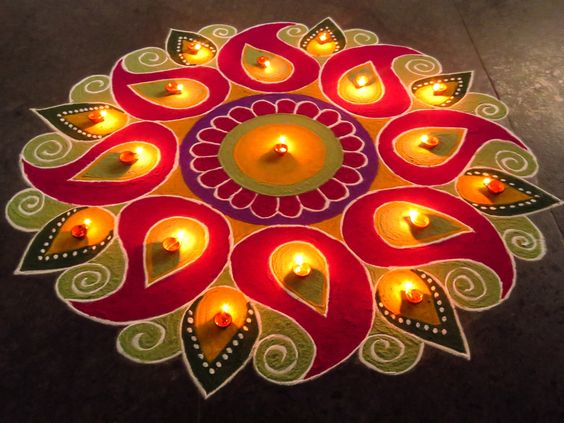 Scented Candles
Take 5-6 scented candles and place them in a bowl full of water with some flowers. It will give you a contemporary look with a modern touch. The fragrance of candles along with flowers will have mesmerizing effect.
Serial Lamps
Serial lamps have emerged as a modern way for Diwali home decorations. They come in different shapes and sizes with many colour choices and patterns. You can use them to decorate your homes by aligning them in a pattern.  The galleries or roof of the houses can be easily decorated with them.
Floral Decoration
Flowers are stringed in a row around the pillars or staircases. The presence of natural items creates a positive vibe around you. They are also easily available and artificial flowers can also be used in place of natural ones.
Old Fashioned Lanterns
It is an interesting idea to use traditional old fashioned lanterns. You can hang them at the entrance or in the garden of your houses in order to create an aesthetic view.
Diwali Toran
Toran is a decorative item that is hanged outside the entrance of the house. It has a religious aspect as it is considered to have an auspicious sign. It is placed at the archways of the entrance in order to welcome goddess Laxmi.

With the help of above decoration ideas, you can now decorate your home like no one does.
Everyone has different Diwali celebration ideas which does include Diwali decoration ideas, Diwali gift ideas etc. according to their own choices. Somake a plan before implementing your ideas and work accordingly. You will definitely rock this Diwali.
So when you are done with decoration of your homes, there is an another aspect I want to draw your attention towards and that is SAFETY. Diwali is a festival that involves people ranging from a six year old child to a sixty year old elderly and due to this, it becomes a major concern that we must celebrate it with joy without causing harm to anyone.
Keeping this in our mind here are a few Diwali safety tips we should keep in our mind while bursting crackers
Due to increasing pollution, we should celebrate eco friendly Diwali by saying no to pollution creating crackers. They create a lot of air pollution as well as noise pollution.
We can use pollution free crackers that don't create air pollution in place of those pollution creating crackers.
Always buy fireworks from a licensed shop.
Crackers should be kept in a closed place away from any kind of heat source.
Small children must not be allowed to burn crackers and others must burn it under the supervision of elders.
Read all the safety instructions regarding the burning of crackers.
Wear thick cotton clothes to ensure safety from fire.
Always wear closed footwear in order to prevent burns from leftovers of crackers.
Always stand at an arm's length while bursting crackers.
Use a candle or incense sticks to burst crackers.
Always pour some water on burnt fireworks so that no one gets hurt while stepping over it.
Always burn fireworks in an open place like a playgrounds or fields.
Light only one firework at a time.
Keep inhalers, eye drops and burn treatment cream handy.
Now there a few things that we should prevent in order to have a safe Diwali: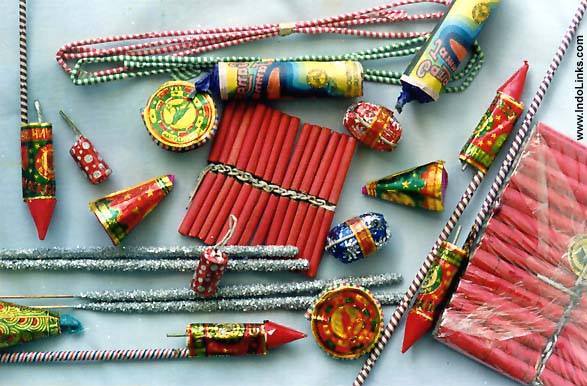 Don't burn crackers in crowded places or in societies.
Don't inspect un- burst fireworks.
Never show off by bursting crackers in your hand.
Avoid synthetic or loose clothes as they easily catch fire.
Never use lighters or matchsticks for bursting crackers.
Don't burn aerial fireworks in congested places like colonies.
Don't burn crackers in absence of any adult.
Never keep fireworks inside your pocket as they may catch fire wire and lead to injuries.
Crackers must not be burst on roads as it could lead to some serious accident.
Never throw burning crackers toward any person.
Bursting of fireworks between 10:00pm to 6:00 am is strictly prohibited.
Unsafe practices must be avoided as this could lead to injuries.
In case of any emergency take the person immediately to the hospital.
Being the festival of light, it strikes out the darkness from the life of the people by bringing joy and togetherness among them. People anticipate and plan for it eagerly. A bit of precaution can make this special occasion a memorable one. If we pledge to have an eco friendly Diwali than we could take a step forward towards the betterment of our society and by reducing health hazards.
The following two tabs change content below.

Being a freelance writer, I have written several educational & informational content for different niches like travel, business, finance, and automotive that have been published on various websites.

Latest posts by Sunil Verma (see all)