PacMan 30th Anniversary Glimpse
On the PacMan 30th anniversary, Google celebrated by embedding a free online Pac Man game in its homepage logo. That was the first-ever interactive logo from Google. Also, besides the "Google Search" button, there was an "Insert Coin" button. Nostalgia trip to the arcade machines, right? Clicking it once would have given you Pac Man, and twice would have started Ms. Pac-Man for two players. The playable Google Doodle was active for 48 hours. Google and twitter search trends were flooding with PacMan searches and keywords. A lot of office workers were playing PacMan game on their office computers.
Pac Man 30th Anniversary Celebration Google Doodle
The Google doodle which is the ever-changing Google logo is always seen celebrating National holidays and other important events. On May 22nd, 2010, that is the Pac-Man 30th anniversary, Google brought forward its first-ever interactive doodle. It was a playable version of the Pac-Man game. It also had an insert coin option beside google's search button. You click the insert coin once to start the Pac-Man game, you can click it twice for Ms. Pac-Man which can be played by two users. The doodle was active for straight 48 hours. People went gaga over it and we're playing Pac-Man even in working hours.
The Pac-Man Google Doodle was the first-ever interactive doodle from Google. The Google Pac-Man game is still available. Just type Pac-Man in Google's search bar, and you will get to see the Google Pac-Man game in the search results.
About the Pac-Man Game
Pac-Man is an arcade game released in 1980 by Bandai Namco Entertainment Inc. Since then now time has come to celebrate Pac-Man's 40th Anniversary on 22nd May 2020. It was developed by Toru Iwatani and was brought forward as a game that did not have violence. The game had a simple maze through which the Pac-Man character would move and eat all the dots in its path. However, it needs to keep a distance from the 4 ghosts of the game: Binky, Pinky, Inky, and Clyde, otherwise it would cost a life.
The Pac-Man game has been a huge success and widespread success all over the world. The Pac-Man character has today become the flagship icon of Bandai Namco Entertainment Inc. It has risen to the status of one of the greatest games of all time and has created a legacy of its own.
Pac-Man Details
Title: Pac-Man, originally known as Puck-Man
Released on: 22nd May, 1980 (Japan)
Releasing Platform: Coin Operated Arcade machines
Developer: Bandai Namco Entertainment Inc.
Manufacturer: Bandai Namco Entertainment Inc. (Japan), Midway (North America)
Designed by: Toru Iwatani
Origin of Pac-Man
Toru Iwatani was the man behind the development of the Pac-man game, along with a team consisting of 9 men. The motive behind creating Pac-man was to create a game that was the antonym of the overwhelming games with violent backdrops and themes, like Asteroids, Tail Gunner, etc. The Pac-Man game was developed with the idea of introducing an arcade-style game that would be liked by everybody.
The other games back them had warrior characters that would fire ammunition, however, Pac-Man needs to eat his way to win. There are several food references in this game: Pac-Man gulps down pills in his path, the power pellets were originally in the shape of cookies, and the bonus items are fruits.
The development started in early 1979. The inspiration for the character of Pac-Man was a pizza with a removed slice or a rounded Japanese mouth character called "kuchi". The ghosts of the game were made pretty cute and colorful so that young players could like them. Pac-Man's original name was "Puckman" and that was derived from the hockey-puck shape of the main character.
The Pac-Man game was launched in Japan on 22nd May 1980. It was released in the US by October. The yellow rounded character Pac-Man that travels in a maze trying to eat all the dots in his path while avoiding the ghosts became an iconic game of the 80s'. Pac-Man continues to be a legendary video game in gaming history.
Pac-Man's creator was a company called Bandai Namco Entertainment Inc. in Japan. In 1981, more or less 250 million games of Pac-Man used to be played in the US. These games were played every day on 1 lakh Pac-Man machines. Soon after, Pac-Man was released on all the video gaming platforms. In fact, on 22nd May 2010, that is Pac-Man's 30th anniversary, Google Doodle featured a playable version of Pac-Man.
The popularity of Pac-Man Worldwide
Soon after its release, Pac-Man became a huge commercial as well as critical success. It has a widespread legacy, is extremely influential, and is usually listed as one of the best video games mankind has ever had.  The non-violent nature of Pac-Man made it a phenomenon in the early 1980s. By 1982, more than 30 million Americans spent about $8 million per week to play Pac-Man on Pac-Man machines. The Pac-Man game was so popular among youngsters and teens that parents became worried because the game was played on arcade machines and those were located in noisy, and congested places.
Within a year of release of the game, spin-offs were being created. Some of these spin-offs of Pac-Man were unauthorized. Ms. Pac-Man was one such popular version which first appeared in 1981. Some of the other noteworthy spin-offs were Junior Pac-Man, Pac-Land, Pac-Man World, Pan-Man Plus, Professor Pac-Man, etc. By the 90s', Pac-Man could be accessed on computers, gaming consoles, and other such devices.
At a point of time, Pac-Man T-shirts, stickers, board games, dolls, puzzles, wind-up toys, wrapping paper, lunch-boxes, pajamas, and more such merchandise became popular. Such was the popularity of Pac-Man that even a cartoon and a song based on Pac-Man were released. Today, you can play Pac-Man even on your browser through the Google Pac-Man game.
PAC-MAN's 40th Anniversary Celebration Preparations
Bandai Namco Entertainment Inc. is very excited and hyped up to celebrate the Pac-Man 40th anniversary. Bandai Namco Entertainment Inc. is the developer of the Pac-Man game and has now become a top-notch leading Entertainment Company. On November 2nd and 3rd, the company invited all the Pac-Man fans to "Join the Pac" at Long Beach Convention & Entertainment Center located in Long Beach, California. They have started a year-long celebration to celebrate the game as a pop culture icon. Meanwhile, an official theme song for the Pac-Man 40th anniversary has been developed. It is called "Join the Pac".
Besides that, fans can "join the pac" at various celebratory events all over the world. These events will take place throughout the year 2020. It is said that the year 2020 will be monumental for Pac-Man with lots of brand partnerships, an official theme song, and various worldwide engaging events.
You can find all the latest information about Pac-Man 40th anniversary here: https://www.pacman.com/en/
Hopefully, an announcement of a new pac-man game could also be witnessed. Let's see. This is the first glimpse of Pac-Man's 40th Anniversary Logo: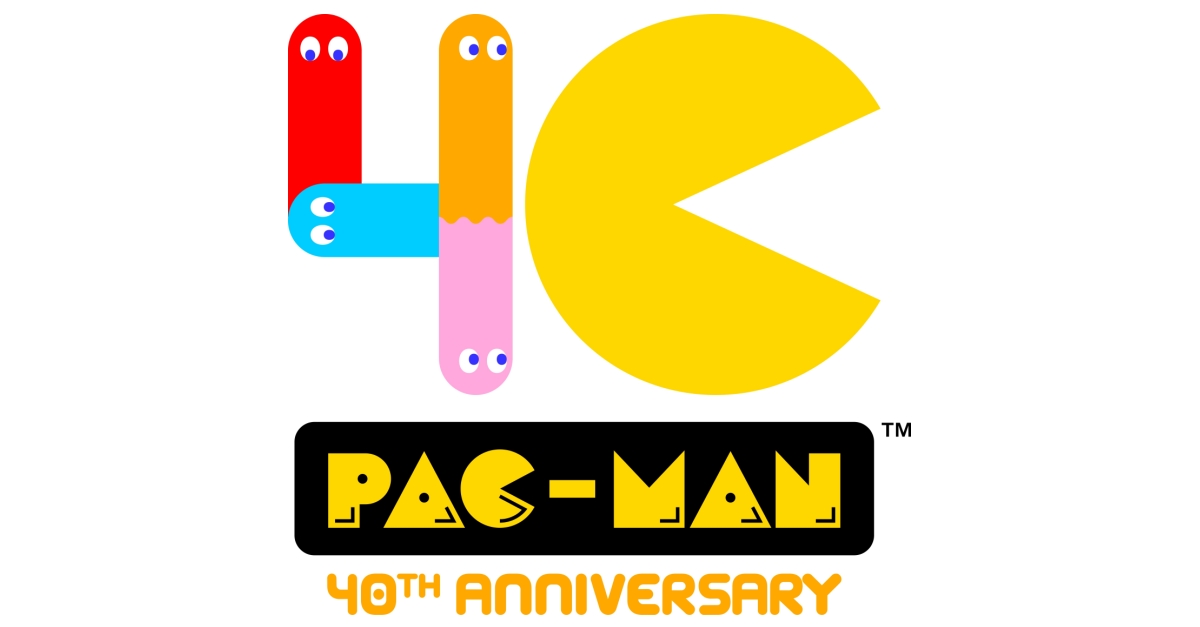 JOIN THE PAC (Official Theme Song for PAC-MAN 40th Anniversary)
Pac-Man 40th anniversary will give us the debut of the theme song of Pac-Man, which has been composed by the renowned Ken Ishi, a Japanese Techno artist. There is a music video accompanied as well, with Yuichi Kodama as its director. Yuichi Kodama has won several accolades and awards. He also has been the chief video director of the Rio Olympics closing ceremony flag handover.
Check out the official theme song for Pac-Man's 40th anniversary "Join the Pac" from Bandai Namco Entertainment America YouTube channel:
Download Pac-Man Game
Pac-Man was introduced as an arcade machine game. But it soon it made its way to computers, gaming consoles, smartphones, and whatnot. You can opt for a Pac-Man game download on your PC or your Android or iOS smartphones. You will get the Pac-Man download option both at Google play store for Android users and also at App Store for Apple phones. So, download it now and play Pac-Man!
Pac-Man for Android can be downloaded from here:
https://play.google.com/store/apps/details?id=com.namcobandaigames.pacmantournaments
Pac-Man for IOS can be downloaded from here: https://apps.apple.com/us/app/pac-man/id293778748
Conclusion
Pac-Man game is and will continue being a legend in the video gaming world. Born on May 21st, 1980, it is about to be 40 years old this year. This article talks about everything you need to know about Pac-Man and also explores the Pac-Man 40th-anniversary celebrations.
The following two tabs change content below.

Being a freelance writer, I have written several educational & informational content for different niches like travel, business, finance, and automotive that have been published on various websites.

Latest posts by Sunil Verma (see all)